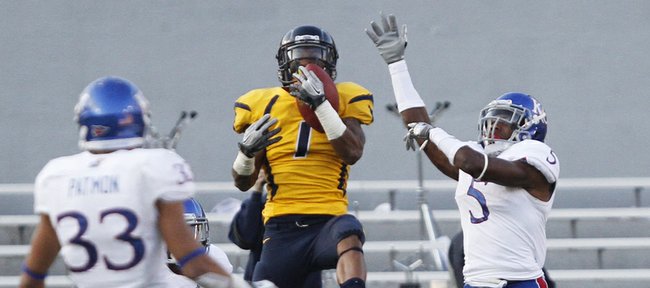 Photo Gallery
KU football v. West Virginia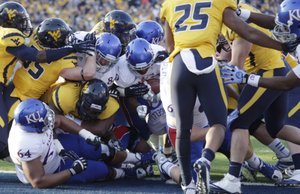 The Kansas football team's football game at West Virginia on Dec. 1, 2012.
Podcast episode
Kansas coach Charlie Weis talks to reporters following the Jayhawks' 59-10 loss to West Virginia on Dec. 1, 2012.
Morgantown, W.Va. — The Kansas University football team traveled 900 miles to play a game and the secondary didn't even get to do what it does best against West Virginia quarterback Geno Smith, which of course is celebrate an incomplete pass.
Smith, who led the Heisman Trophy race a few weeks into the season, reminded everybody why Saturday at Milan Puskar Stadium in a mismatch that featured plow horses futilely chasing thoroughbreds.
The plow horses lost, 59-10, and will continue to lose against all Big 12 opponents unless Kansas figures out a way to cobble together a credible pass defense. That means defensive tackles who push the pocket, ends who fly off the edges and defensive backs who can stay close enough that they can take a look at the football before it settles gently into the hands of the receiver.
Smith's only non-completion was intercepted by junior cornerback Tyler Patmon, the lone returning starter in a secondary that loses safeties Bradley McDougald and Lubbock Smith and cornerback Greg Brown.
Smith completed 23 of 24 passes for 407 yards and three touchdowns. He relied heavily on three receivers: fast J.D. Woods (four catches, 83 yards), faster Stedman Bailey (11 receptions, 159 yards) and fastest Tavon Austin (four catches, 110 yards, 12 rushes, 77 yards) to shred the Kansas defense at will.
Nothing drives home the point of how much work needs to be done to make Kansas a competitive Big 12-caliber football team better than remembering that West Virginia (7-5, 4-5) lost five consecutive conference games.
Not long after Kansas coach Charlie Weis finished talking about his team's latest bloodbath, he held a clandestine meeting behind a curtain with West Virginia's quarterback, dispensing advice he couldn't get from his head coach, Dana Holgorsen, who has spent his entire career in the college ranks. Efforts to eavesdrop on the conversation were stunted by security goons, but the word here and there that could be made out made it seem as if Weis was letting him know how to maximize his appeal to NFL teams between now and April 25, the first day of the NFL draft.
A candidate to be chosen first in the draft, Smith won't face any defenses that looked like the one he abused with precision accuracy and impressive arm strength Saturday.
"He completed every pass today," Weis said. "One to us and 23 to them."
Smith completed the last 21 passes he threw Saturday.
"Very similar to every other Big 12 offense there is," McDougald said. "No different from Baylor, Kansas State. That's the Big 12: high-powered offenses, and defensive coordinators coming together trying to figure out how to stop them."
Kansas was able to slow Big 12 offenses on an every-other-week basis until getting buried in the final two games of a 1-11 season. Iowa State slammed Kansas, 51-23, in Lawrence.
What happened to the defense in the final two games?
"It was definitely big plays," Weis said.
Part of the big-play outbreak doesn't need much analysis. Kansas doesn't make quarterbacks uncomfortable and doesn't cover receivers well. Strength and speed are lacking up front, and not enough speed and — what else, confidence maybe? — roams the secondary.
"I'm fully aware of our deficiencies," Weis said. "I'm fully aware of what they are. In about five seconds, I'm going to be out recruiting to try to plug some of these holes and not have as many deficiencies."
Weis is as excited about Jake Heaps taking over at quarterback as he was for several months at the prospect of Dayne Crist handling the job. The law of averages says Heaps will do just fine. But what about the offensive line, which loses three multi-year starters? And what about the wide receivers, who as a unit did not catch a single touchdown pass all season?
The inability to complete passes and defend them undermined the competitiveness of a squad that became the first in school history to lose 11 games. Weis intends to shore up both areas immediately by using instant playing opportunities to entice players from junior colleges.
Upon taking the job, Weis said he was curious to find out why Kansas State went 10-2 last season and Kansas 2-10. K-State headed into Saturday night's game against Texas needing a victory to go 11-1, again the inverse of KU's record.
After one season on the job, what has Weis learned about why that is?
"It has a lot to do with recruiting," he said. "That's what we're going to go try to fix. I don't want to get into particulars, but if you look at the makeup of the rosters, you'll see there's one glaring statistic that comes out with where everyone came from. Without having to spell it out, it's one of the areas where you can fill a void quickly with players who can play now. We all watched the game. Obviously, we need to fill these voids with players who can play now."
Faster players wanted by other Big 12 teams, not everybody else's leftovers.