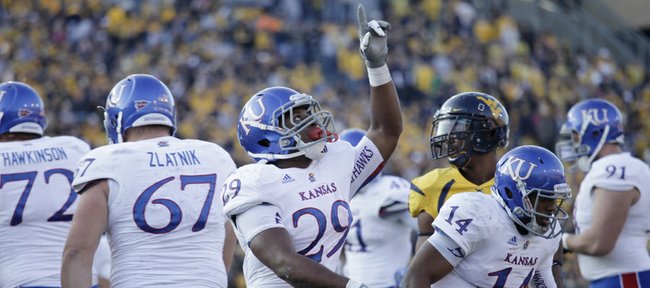 Photo Gallery
KU football v. West Virginia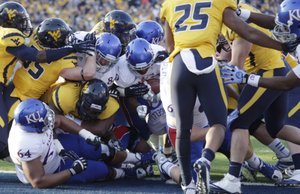 The Kansas football team's football game at West Virginia on Dec. 1, 2012.
Podcast episode
Kansas coach Charlie Weis talks to reporters following the Jayhawks' 59-10 loss to West Virginia on Dec. 1, 2012.
Morgantown, W.Va. — When Kansas University junior James Sims was suspended for the first three games of the 2012 season after a DUI arrest this summer, many wondered if KU's leading rusher from the previous two seasons would lose his featured spot in the Jayhawks' backfield.
Not only did Sims answer that question with a resounding no, but he also became the first Jayhawk since 2007 to rush for 1,000 yards in a single season.
The Irving, Texas native reached quadruple digits during the second half of a 59-10 blowout loss at West Virginia on Saturday night. Sims did very little to change the mood of a broken up locker room, but Sims, the ultimate team player, talked after the game about what the achievement meant.
"It was a big goal for me," he said. "Even though I knew I was gonna be suspended the first three games, I still had that goal in my head, and I'm glad it happened. The offensive line did a great job up front. Give those guys credit because without them, I wouldn't even have come close to it."
Despite finishing with a season-low 57 yards on 18 carries, Sims became just the 12th back in KU history to record a 1,000-yard season. He finished with 1,013 yards and the respect of his teammates.
"He's just a tough guy, a tough runner and it means a lot to him," said senior quarterback Dayne Crist. "He loves football, and you can see that every day, and it's great to see a guy like that go out there and get that milestone."
Heaps ready
Although he did not make the trip to West Virginia, quarterback Jake Heaps, a sophomore who sat out the season after transferring from BYU, more than made his presence felt.
While he did not mention Heaps by name, KU coach Charlie Weis made it clear whom was referring to when he explained Heaps' impact after the game.
"I go in there, and one of our players who didn't make the trip, who I'm counting on to be a significant player next year, had (sent me) a string of texts giving his analysis of the game," Weis said. "This, this, this, this, and I'm reading it, and that perks you up. In a second, you've gone from being totally in the tank to sit there and say, 'Now that's what I'm talking about.'"
Weis continued: "It was refreshing to see that not only is he watching the game, but he's studying the game and analyzing the game."
With KU's quarterback play falling well below expectations this season, Heaps is considered to be one of the most important players in the program heading into 2013. It seems he's ready.
"He asked if he could have a meeting with me tomorrow so while we're on the road recruiting he can start moving things in the right direction," Weis said. "We need a lot of people like that, but that's a good start."
This and that ...
The Jayhawks won Saturday's opening coin toss and deferred their choice to the second half. West Virginia elected to receive the opening kickoff. ... Senior offensive lineman Tanner Hawkinson increased his school record of consecutive starts to 48 in the final game of his career. ... With 64 yards on three kickoff returns Saturday, senior D.J. Beshears became KU's all-time leader in the category (2,123), passing Marcus Herford (2,075). ... Temperature at kickoff was 58 degrees, under sunny skies with winds of 5 mph out of the southwest.