Photo Gallery
Kansas basketball v. Oregon State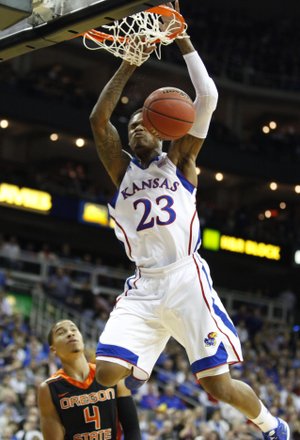 Images from Friday night's game against Oregon State at the Sprint Center in Kansas City, Missouri.
Podcast episode
Kansas coach Bill Self talks to reporters following the Jayhawks' 84-78 victory over Oregon State on Nov. 30, 2012.
Podcast episode
Kansas guards Travis Releford and Ben McLemore talk to reporters following the Jayhawks' 84-78 victory over Oregon State on Nov. 30, 2012.
Box score
Kansas City, Mo. — Kansas University freshman skywalker Ben McLemore stole a pass near midcourt, dribbled through the middle of the lane and slammed the basketball through the goal.
The 6-foot-6 St. Louis native's remarkable dunk gave the Jayhawks a 29-18 lead over Oregon State with 8:21 left in the first half of Friday's 84-78 victory in Sprint Center.
"It looked good from where I was standing," KU coach Bill Self said of the high-flying jam. "Ben was on a roll the first half. The second half he never really got in the flow."
McLemore scored 21 points off 8-of-14 shooting in 27 minutes. He had 15 points off 6-of-8 shooting the first half alone.
His dunk proved to be the individual highlight of the entire game if not the season.
"We were pressuring full court. I saw an opening. I saw my man try to make a good pass to his teammate," McLemore said. "I reacted real fast, got the steal and took it all the way."
McLemore, who was 0-for-7 from three against San Jose State on Monday, hit six of his first seven shots, including three of four threes. He scored 15 points as KU grabbed a 33-19 lead.
Unfortunately, McLemore picked up his second foul with 6:18 left in the first half with KU up by its game-high lead of 14. OSU went on an 18-4 run with McLemore out and tied the contest at 37 with 2:18 left in the half.
KU, with a lineup of Jeff Withey, Kevin Young, Rio Adams, Travis Releford and Evan Manning on the court did outscore the Beavers, 5-2, the remainder of the half to lead 42-39 at the break.
"I thought, 'I'll go ahead and sit him (with two fouls),' and then it kind of drifted away," Self said of the lead. "I wasn't going to put him in with two or three minutes left. That probably wasn't very smart.
"Look at the lineups we had out there," Self added. "Hey, we've never even considered practicing that way as far as, 'Let's work with this lineup together.' I was just trying to find anybody to go out there and give us some positive contributions the last five minutes. To be honest with you, we didn't find anybody. We were fortunate to be up three at half. That thing was at 14 and it dwindled fast. We didn't have guys step up and stem the tide so to speak. We had poor play probably when we just needed to be sound that led to their comeback."
McLemore, by the way, also hit two huge free throws with :13.9 left, upping an 80-77 lead to 82-77.
"Coach before the free throws asked me am I going to make the free throws? I said, 'I got it.' I made the two free throws," McLemore stated.
This, that: Andrew White set career highs in rebounds (six) and minutes played (13). Self said he by far was KU's most effective bench player. ... OSU went 4:39 without a field goal in the middle of the first half. KU went on a 12-1 run over that span and took a 33-19 lead. ... KU shot 62.1 percent from the field in the first half. It was the second time this year that the Jayhawks shot over 60 percent in a half. The Jayhawks shot 64 percent in the first half versus Washington State. ... KU has not trailed in four straight games. The Jayhawks have been tied or held a lead for their last 173 minutes, 51 seconds, going back to the 13:51 mark of the second half against Chattanooga (Nov. 15) ... KU's 60-percent shooting overall was best since a 61.4-percent mark against Texas A&M; on March 8, 2012. ... KU's 54 points in the paint were the most the Jayhawks have had since November 11, 2011 when KU scored 58 points versus Towson. ... KU's 84 points are the most scored this year. ... The 78 points that OSU scored were the most allowed by KU since Baylor scored 81 in the 2012 Big 12 tournament ... Elijah Johnson tied a career high in assists with 9. It is the third time in his career that he has finished with nine assists. ... Travis Releford has scored 60 total points in three games at Sprint Center this year. ... Releford has 611 points in his career.
Records: KU, which improved to 6-1, has now started 6-1 or better for the sixth time in seven seasons. ... KU is 1-0 all-time versus Oregon State. ... KU has won 10 straight over Pac-12 teams. ... KU is 15-4 versus the Pac-12 in the Bill Self era. ... KU is 17-4 in games played in KC's Sprint Center. ... KU is 202-78 all-time in games played in Kansas City... Bill Self is 275-54 while at Kansas and 482-159 overall... KU is 2,076-807 all-time.
OSU's history in big games: The Beavers last beat a Top 10 team on the road on Jan. 17, 1976, when they stopped No. 6 Washington, 72-70. They last beat a Top 25 team on the road on Jan. 5, 1985 — a 52-45 decision at No. 15 Washington. ... OSU's last home win over a Top 25 team was a 68-56 decision over No. 20 Washington on Feb. 3, 2011, in Corvallis. ... OSU's last home win against a Top 10 team was 70-69 over Arizona on March 2, 2000. ...
Remembering Ralph Miller: Legendary Oregon State coach Ralph Miller attended KU where he played for Phog Allen (1937-41). Miller, who also played quarterback for KU's football team, won 359 games in 19 years as the head coach at Oregon State before retiring in 1989.
"Now when did he finish here, the 40s?" KU coach Bill Self said correctly. "Cindy (Self, wife) and I took the kids on vacation south of L.A. We were hanging out on the street, and Ralph Miller's wife came up and talked to us and all that stuff, which was cool. She had so many fond memories," Self added.
Angus missing: Angus Brandt, who tore his ACL against Purdue on Nov. 16, was called the "heart and soul" of the team by coach Craig Robinson. He was averaging 11.3 points and 8.5 rebounds per game. He started 50 of 51 games before the injury with the lone non-start against Colorado last season when he gave his starting nod to Kevin McShane on Senior Night. The Aussie finished ninth in the Pac-12 in field goal percentage last season at 53.5 percent (122-for-228) and led the Beavers in three-point percentage at 49.2 percent (29-for-59). Brandt will have to apply for a medical hardship from the Pac-12 office, which should be approved since he played in nine games or less during the first half of the season. The official word is expected in March during the Pac-12 Tournament.