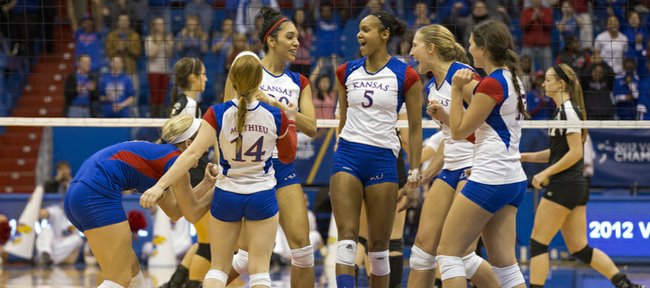 Having made almost every Kansas University volleyball home game in her time at KU, sophomore Allison Hammond, of Overland Park, would probably qualify as a die-hard fan. So when the team is playing in the NCAA tournament at Allen Fieldhouse, there's no way she's going to miss it.
"It's really exciting," Hammond said between yells as the volleyball team defeated Cleveland State on Friday night in four sets.
The crowd of about 3,500 in Allen Fieldhouse did its best to rock the old barn, clapping along with the fight song and rising and yelling for each set point. The band was on hand to pump up the crowd, and the volleyball team even got in the mix with an impromptu dance between matches to the song "Gangnam Style."
Hammond did her fair share to encourage the team, recruiting a number of friends to fill the front row and wave signs urging them on.
"Volleyball isn't as popular so people don't want to go to the matches, but I think our team deserves our support because they are really good," she said.
Hammond started going to the games as a freshman because she had a friend in the KU band.
"I got hooked," she said. "I just really like how fast-paced it is. It has just kind of become an outlet for me. It's a good way to release energy."
For some it was a chance to see the team dig, dive and spike on a larger stage. For others, it was a place to pick up tips.
Annika Carlson, an eighth-grader from Overland Park, was using the matches to improve her game.
"I'm watching the setters because I'm a setter," she explained. "It's fun to watch because we like KU."
And for season-ticket holder Judy Lebestky, the match was something fun to do while the men's basketball team scraped out a victory down the road at the Sprint Center in Kansas City, Mo.
"The dives are pretty exciting," Lebestky said. "I like it when they do that. I think it's great."