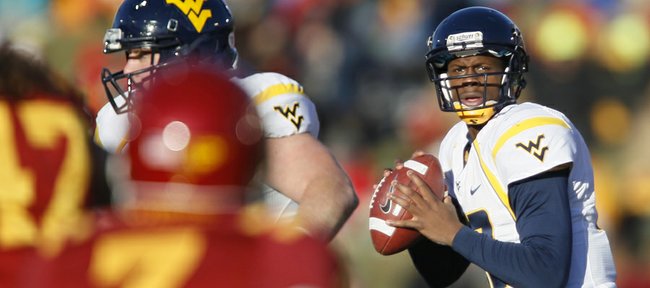 On the night of Sept. 29, a few hours after West Virginia quarterback Geno Smith lit up the Baylor Bears for 656 yards and eight touchdowns during a 70-63 victory, college football analyst and 1995 Heisman Trophy winner Eddie George called for a stop to this season's Heisman race and gave his vote to Smith.
In the eight weeks since that showcase performance, which was talked about for days from coast to coast, Smith, a 6-foot-3, 220-pound senior from Miami, has seen his Heisman chances disappear but his numbers continue to climb.
It's not that Smith has slipped much from the torrid start that included 24 touchdowns and zero interceptions during his first six games, rather the fact that the Mountaineers, who once looked like they could run the table during their first season in the Big 12, came crashing back to reality with a five-game losing streak that stretched from Oct. 13 to Nov. 22 and finally was snapped last week with a victory over Iowa State that pushed WVU to 6-5 overall and 3-5 in Big 12 play.
"I think sometimes when you get to be a Heisman candidate like he was, he started pressing a little bit trying to make some things happen," KU defensive coordinator Dave Campo said. "And they weren't doing as well as maybe they thought they should after the first five ballgames, and I think it probably affected him a little bit. I know that he started pushing some balls into some spots that he probably shouldn't."
As the season went on and Smith piled up the gaudy stats, the focus of opposing defenses — not to mention pressure from within — began to center entirely on Smith, who enters today's 1:30 p.m. kickoff with Kansas University (1-10, 0-8) with 3,597 yards, 37 touchdowns and just five interceptions. Although the huge yardage totals and touchdowns continued to roll in, things were not nearly as easy for Smith, whose few mistakes came at crucial times and led to the losing streak.
"The wins and the losses don't solely fall on the hands of the quarterback," WVU coach Dana Holgorsen said. "You look at Geno's stats, they're as good as anybody in college football. He's done a great job protecting the football and running the offense. Has it not been enough in specific games? Yes. But that's the case for a whole lot of people across the country, as well."
Once the idea of a dream season for his team went out the window and the offense found more success running the ball, Smith returned to form and began to resemble more the quarterback who went wild against Baylor than the guy who tried to force things when they weren't there in the weeks that followed. Holgorsen said his QB handled himself well through all of the highs and the relative lows.
"If Geno wants to play in the NFL, this is the type of thing that he's gonna have to go through," Holgorsen said. "And he understands this."
By now, Smith's Heisman hopes are long gone. Texas A&M; quarterback Johnny Manziel is the overwhelming favorite to win the award, and, although Smith's passing stats are more impressive than "Johnny Football's" (3,419 yards, 24 TDs, 8 interceptions), the A&M; freshman's 1,181 yards and 19 touchdowns on the ground make him the obvious front-runner.
None of the Jayhawks have Heisman votes, but it's clear that they're impressed by the WVU leader.
"He's big. He can run," Campo said. "They don't run him like the normal spread teams do, but he can scramble. He will run when he has to. He's got a big arm. He can make all the throws. Every quarterback's a system quarterback no matter what system they're in. And he's very good in that system."
Added sophomore linebacker Ben Heeney: "He's composed. He's got a good ball. He puts it on the money most of the time, and he just seems like a leader out there. I think defenses might have adjusted to Geno and it opened up big plays for other people. I mean, Geno's not gonna throw eight touchdowns a game."
Of all the Jayhawks who have studied Smith this week, looking for any kind of weakness they can exploit, head coach Charlie Weis might be the most qualified to evaluate the potential first-round pick's NFL outlook. Smith might have missed out on the Heisman Trophy, but as Weis sees it, he's a potential can't-miss guy at the next level.
"All I know is, with what they do, he is really good at it," Weis said. "Can he throw the ball down the field? You bet. Can he throw it accurately? Yeah. Can he throw it short? He can do that, too. So, I mean, when anyone can make all the throws, I think you have a chance of fitting into any system. He can sling it against everyone."