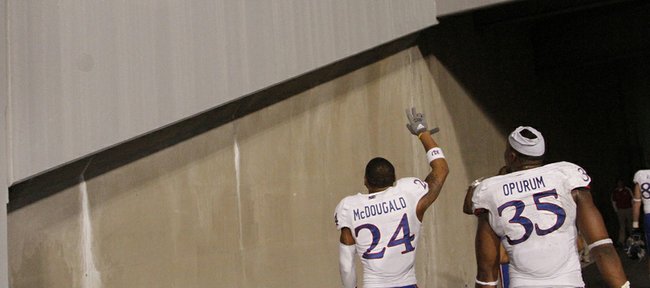 Photo Gallery
KU football v. West Virginia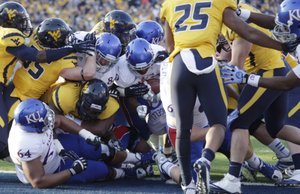 The Kansas football team's football game at West Virginia on Dec. 1, 2012.
Podcast episode
Kansas coach Charlie Weis talks to reporters following the Jayhawks' 59-10 loss to West Virginia on Dec. 1, 2012.
Morgantown, W.Va. — On the final snap of his Kansas University football career, senior safety Bradley McDougald never moved.
With the Jayhawks seconds away from a long afternoon officially becoming a 59-10 loss to West Virginia, and with WVU back-up quarterback Paul Millard prepared to take a knee on the game's final play, McDougald stood frozen in his spot in the KU secondary.
"I was just kind of taking it all in, just taking my last breaths on the field," McDougald said. "I don't want to say I was enjoying it, but I was moving around in my pads, looking around at the guys in front of me, the guys I've been banging with and going to war with week in and week out, one final time."
West Virginia rolled to 647 yards of offense, and WVU quarterback Geno Smith completed 23 of 24 passes (the lone miss was intercepted by KU junior Tyler Patmon) for 407 yards and three touchdowns. The stats, the season and, in many ways, McDougald's entire KU career will go down for everyone else as moments to be forgotten. But as McDougald stood and watched both teams converge around him and meet at midfield for postgame handshakes, he made sure to hook up with senior defensive end Toben Opurum. Together, the two leaders and familiar faces took their time walking off the West Virginia turf. As they walked slowly, and side by side, into the tunnel for what likely was their final time as teammates, the two Jayhawks who have been through three head coaches and 37 losses during the past four years stood tall.
"When we came in, we were great friends," McDougald said. "We stayed right down the hall from each other and we made promises to each other: Don't fall off, man; just keep working. We saw the success that guys ahead of us had, and we wanted that success. We wanted to be (Darrell) Stuckey, we wanted to be to be Kerry (Meier) and (Dezmon) Briscoe, and we wanted to carry the program just as they did. It didn't work out that way, but that's why I was happy just to walk off with him. It was like, 'Man, there's nobody else I would rather walk off the field with than my homie, Toben.'"
The moment was just as special for Opurum, who came to Kansas as a highly recruited running back and left by recording a sack and three tackles in his final game at his third position.
"We kept our heads held high because we were talking out there and we said, 'A lot of people can't handle this,'" Opurum shared. "It takes really strong people to be able to go through four years of college football itself, but especially when things aren't going your way. You gotta be mentally tough and physically tough to be able to handle it, and I think me and him handled it the best we could."
There was plenty to handle on Saturday for the Jayhawks (1-11 overall, 0-9 Big 12). West Virginia's trio of explosive offensive playmakers ran away from KU's defense throughout the afternoon. Smith triggered it all, but wide receivers Stedman Bailey (159 yards and two TDs on 11 receptions) and Tavon Austin (197 total yards and one TD) accounted for most of the damage.
"In the games we've struggled on defense, we've given up a bunch of big plays, and today was just another one of those days," KU coach Charlie Weis said. "You saw a gross mismatch when you looked out there. It didn't take a brain surgeon to figure out whose players were exposing the other team's players."
Offensively, the Jayhawks did not fare much better. KU finished with just 274 yards of total offense, and, after cutting the WVU lead to 21-7 on a James Sims touchdown run with 7:05 to play in the first half, watched the Mountaineers (7-5, 4-5) rip off 31 straight points before KU cracked the scoreboard again with a 32-yard field goal from Nick Prolago with 9:01 to play.
Smith set a school record with 21 straight completions. The Mountaineers' 35 first-half points matched their highest scoring half of the season, a feat they recorded in each half of a 70-63 shootout win over Baylor early in the season. Austin and Bailey both struck Heisman poses after touchdowns. And the bulk of the crowd of 51,112 that showed up for WVU's senior sendoff stayed and partied to the end as John Denver's "Country Roads" blared over the public address system.
"If I hear John Denver one more time I might get sick to my stomach," Weis said. "Although I love the song, to have to be serenaded by it walking off after a blowout loss doesn't exactly fire me up too much."
Weis gave senior quarterback Dayne Crist the start in the final game of his college career Saturday, and like so many of Crist's starts during a disappointing and injury-riddled five-year career at KU and Notre Dame, things ended badly and with the former five-star QB prospect sitting on the bench.
"We felt that we were gonna come out in the first couple of series and throw dropback passes because we knew that they were gonna spend the week loading up the box against us," Weis said.
Asked why things went wrong even though KU appeared to have some openings in the passing game, Weis pointed to a total team collapse.
"If you saw what I saw, you might see it a little differently," he explained. "Sometimes receivers can't stop running when the ball's being thrown. There's more to it than that, but I wasn't really happy with any of the first few passes and how they turned out."
Crist was relieved by red-shirt freshman Michael Cummings on KU's third offensive series of the day and, with or without him, the passing game never clicked. As a team, the Jayhawks completed just 7 of 16 passes for 117 yards and one interception.
"It's disappointing, obviously," Crist said. "No one's happy with where we're at or how we finished, but there's something to be learned from every experience, and this season needs to be something this team builds on."
The only bright spot for KU on Saturday came from Sims, who passed the 1,000-yard mark for the season despite playing in just nine games. Sims finished with a season-low 57 yards on 18 carries and ended the season with 1,013 yards.
The loss, KU's 11th straight after opening the season with a victory against FCS foe South Dakota State, secured KU's lowest win total in a season since finishing 1-10 in 1988. Earlier in the week, when talking about WVU's potent offense, Weis explained that if his team did not show up ready to fight it could lose 100-0.
"This is about what that is," Weis said. "One-hundred-0, 59-10, they're pretty close. ... I was concerned with the match-up, and my concerns came true. Let's just say that."