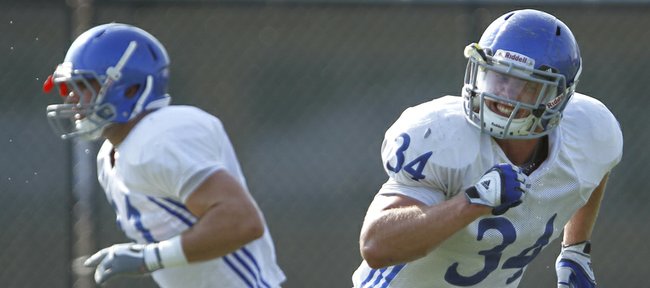 By now, the veterans on the Kansas University defense have heard just how bad the Jayhawks' defense was during the past two seasons more times than they would care to remember.
With a new season — and, really, a second chance — just two days away, the gameplan for each of the guys who endured the rough times is simple.
"We definitely have something to prove," said senior safety Bradley McDougald. "Prove that we're not actually the worst defense in the country. We're going to start there."
Whichever way you slice it, KU's 2011 season was historically bad. That was particularly true on defense, where the Jayhawks ranked dead last in Div. I college football in total defense and surrendered 516 yards per game, 68 touchdowns and nearly 6,200 yards during a 2-10 season.
"The numbers don't lie," said junior linebacker Huldon Tharp. "And that's why this first game is huge for us. If we're gonna be a good defense in the Big 12, we have to come out and dominate the teams we're supposed to dominate."
To a man, the Jayhawks believe that's possible. Tharp was not the only defensive player who kicked around the word "dominate" this week, and others went as far as to say they believe KU's 2012 defense could be among the nation's best. Naturally, the players — and to a greater degree their coaches — want to see proof of that somewhere other than the practice field, but senior co-captain Toben Opurum said he did not think a huge opening week was required to put to bed the bad memories from the past two years.
"I believe we're past it," Opurum said. "The confidence on this team is kind of unreal, to be honest. You would think we're coming off a championship-level season."
Added junior cornerback Tyler Patmon: "It's embarrassing, but, at the same time, it's motivating because, in our minds, we feel like we're not even close to the worst (defense) in football, and we want to send that message in this first game."
The way they can do that is simple, according to Tharp.
"Keep their yardage down, three-and-outs, turnovers," he said. "When it comes down to it, if our offense isn't playing well, our defense should be able to keep us in the game. That's what good defenses do."
The Jayhawks know that because, at times, as rare as it might have been, they've seen it.
"We showed up," McDougald said. "We made great plays. We made three-and-outs against the best. But then we gave up the worst plays at the worst times."
While KU's defensive leaders say the entire team is locked in on its new goals, the other common belief among them is that Saturday's 6:06 p.m. kickoff against South Dakota State cannot get here fast enough. It's time for sacks, interceptions and the scoreboard to stand in for sound-bites.
"Media make statements," KU coach Charlie Weis said. "We just worry about trying to win games. ... I'm really excited for our team, to see how they're going to play, more than anything else. We've been talking about this stuff forever, and it's time to play and get an opportunity to see where we are."
It's called 'Jayhawk'
The former KU coaching staff never publicly settled on a name for it, but Weis already has. The offensive formation that incorporates a direct snap to someone other than the quarterback — known most places as "Wildcat" — will not go by its more popular name at Kansas.
"I call it 'Jayhawk,' for obvious reasons," said Weis, when going over the scouting report for the SDSU offense Tuesday.
It remains to be seen how Kansas will incorporate the "Jayhawk" formation into its offense this season, but Weis has no shortage of options in the formation, as running backs Tony Pierson and James Sims, wide receiver Kale Pick and reserve QB Michael Cummings all could be the trigger man.
Pregame rituals?
Throughout the preseason, Weis clearly has stated his belief that Saturdays belong to the players. But that does not mean that he is devoid of a couple of his own pregame rituals.
"I point up to the box my wife is in so that I don't get into any trouble," he joked on Tuesday. "I find out where that is — I already have one person assigned to tell me where that is — so when I walk off the field I can point up to her. If I don't point up to her; let's just take it from there."
Other than that, Weis said he typically tries to stay out of the way and lets the players get focused however they see fit.
"One thing I do try to do is try get to every player during the warm-ups to wish them good luck for the game," he said.
Running back rotation
Expect three, perhaps four, running backs to receive carries in Saturday's season opener. First-string tailback Tony Pierson figures to get the majority of the work, but Weis has been open about his desire to incorporate junior Taylor Cox, as well as sophomores Brandon Bourbon and Marquis Jackson when the opportunities present themselves.
"We'll start out the game with two," said Weis, referring to Pierson and Cox. "But (will) definitely (use) three and maybe four as the game goes on."
Just win, baby
The new bottom line of KU football is a single simple word that has just three letters — win. But that does not mean the Jayhawks will not have other goals throughout the course of each game. Weis said the offense, defense and special teams all have boards posted with 10 weekly goals designated for each
"The No. 1 goal for all three is winning," Weis said.
Beyond that, the boards track goals such as yardage totals, points scored and points allowed, penalties and turnovers — both for and against. In that last category, the KU offense's goal always will be to finish a game with no turnovers.
"Why would any offensive coach set a goal for turnovers higher than zero," Weis said.