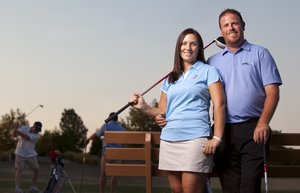 Heritage Academy in Hilton Head, S.C., is listed as a previous school for three Kansas University golfers, including two on the women's team.
It's not difficult to trace the connection to the school where world-renowned Hank Haney heads the golf instruction and students partake in an academic year that stretches from mid-August through the end of May.
Katy Nahm is the KU women's golf assistant coach, and her husband, Josh Nahm, gives instruction at Firekeeper in Mayetta. The Nahms met while working for Haney at the academy in Hilton Head.
Naturally, they now spend all of their free time golfing with each other, right?
Wrong.
"We don't play together," said Katy, 27. "We're too competitive."
Josh, 32, estimated they have played together "five times maybe."
Josh has instructed all three players from Haney's academy now golfing for KU: sophomore Stan Gautier of Paris and a transfer from Arizona State; freshman Ann-Kathrin Wuensch from Herrenberg, Germany; and red-shirt freshman Carly Humes from The Woodlands, Texas.
Katy was in charge of college placement for students at the academy, and Josh was an instructor when they met three years ago. The connections they made there already have upgraded both KU golf teams.
"We still know some of the instructors, keep in touch," said Katy, who is recruiting a couple of current students.
When Gautier flew in from Arizona to work with Josh Nahm on a couple of occasions, he had hoped to work with him at Alvamar, but since Drew Cote does all the instruction there, Nahm wasn't able to give lessons to Gautier there. Somebody recommended he call former Alvamar pro Randy Towner at Firekeeper.
"I asked him if he had any experience, and he said, 'I worked with Hank Haney for six years.' I guess that's pretty good," Towner said Sunday, after firing a 72 at Swope Park in Kansas City in the first day of two-day qualifying for the senior club pro championship. "Good guy, good fit, awesome teacher. I've learned tons from him."
Josh works with several players on mini-tours, but also knows how to reach high-handicappers.
"He's a swing-whisperer is what he is," Towner said.
During a recent session at the Firekeeper range that's decorated with wooden rocking chairs, Nahm watched a skill-challenged golfer use a 7-iron to hit a ball that didn't get very far off the ground and took a sharp right turn about 120 yards right.
"We'll get you hitting high draws in five minutes," Nahm said.
He delivered on his promise. Many a golfer, though, will say he or she can only hit good shots when an instructor is standing nearby.
"They don't understand their swing enough to fix it yet," Nahm said. "People say that all the time to me."
He has a standard response.
"Come back for more lessons," he said with a smile. "Keep paying me. We'll get you there. The more they understand their swing and what happens in it, the better they can self-correct. Start at Point A, keep going, and by the time they reach Point Z, they have a full understanding of what they're doing."
As assistant coach to Erin O'Neil for KU, Katy recruits, instructs and serves as go-between with players' personal swing coaches.
"I'm always keeping in contact with their instructors to make sure we're on the same page," she said.
Katy's greatest strength as a coach, according to her husband: "Definitely her personality. She doesn't ever get mad or get frustrated or change. It's always an even keel, always positive."
Josh's greatest strength, according to Katy: "Knowledge. He picks up things so quickly. For me, I watch a few swings and walk around. It takes me awhile to take it all in. With him, it happens so fast. It's so natural for him."
Josh: "I thought you were going to say it's my good looks."
Katy: "No."
More like this story on KUsports.com