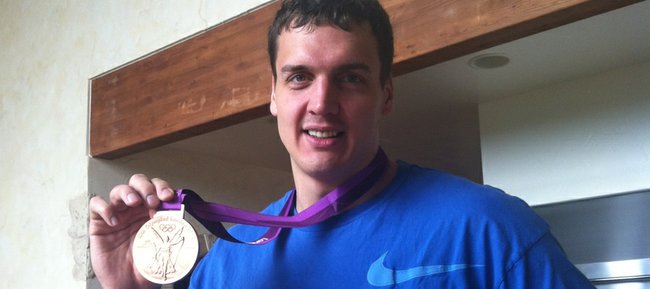 Sasha Kaun and 11 of his closest friends piled on top of each other at the top of the key in Olympic Park Basketball Arena after the final horn sounded in Russia's 81-77 bronze medal victory over Argentina on Aug. 12 in London.
The Russian National Team members celebrated wildly after assuring their country's first top-three finish in an Olympic Games since the break-up of the Soviet Union in 1991.
"I was so happy. It means everything," said Kaun, a member of Kansas University's 2008 national championship team. "To be the first team in Russia history to go and win a medal is unbelievable. The way basketball has grown in Russia is fantastic," added the 6-foot-11, 255-pound center from Tomsk.
The 27-year-old Kaun, who has three years remaining on a contract with CSKA Moscow that pays him over $1 million a year, averaged 7.8 points and 3.6 rebounds for Russia, which amassed a record of 6-2 and became one of the surprise success stories of the entire Games. Just to make the Olympics, Russia had to place in the top three in a 12-team qualifying tournament in early July in Venezuela.
The Kaun and Andrei Kirilenko-led squad went undefeated at that event and qualified with room to spare.
"It was different. You play so many games in a short period of time," Kaun said of earning an Olympic bronze medal compared to claiming NCAA gold. "In the Olympics, you play for 14-15 days. It's tough mentally and physically. The NCAA Tournament is six games. It's a different format. The Olympics ... only a few get a chance to play in the Olympics."
Kaun became the 10th KU men's basketball player of all time to earn a medal and first since Danny Manning (also a bronze) in 1988.
"I am so fortunate to be considered with Danny. To be the first since Danny is phenomenal," said Kaun, whose inside presence was vital in the victory over Argentina and its power forward deluxe Luis Scola.
"As soon as we won, I got texts. I heard from all the guys (on KU's 2008 title team). The coaches all texted me. They were in Europe (Paris playing exhibition games)."
Kaun also was supported by a handful of KU fans who made their way into the London arena.
"There was a guy there who had a sign," Kaun said. "After we got our medal, I posed for a picture (with KU fans) with him and his son. I think once you become a Jayhawk you are always a Jayhawk. I'm very proud to be part of the organization. It's big."
Kaun has not been able to squeeze in a trip to Lawrence this summer. He and wife Taylor (former KU soccer player Taylor Blue) recently moved into a house in Evergreen, Colo., which will be their new offseason home.
"My wife's parents have always been here (Colorado). They have a house in Steamboat. I spend Christmas with her and her family," Kaun said. "We love the area. The weather is great in the summer. We're not too far away from Kansas as well."
Kaun and his wife will return to Russia today for training camp for the upcoming season.
"This season will be tough," said Kaun, who has had precious little recovery time. "I've had three or four weeks off all summer."
He said it is still possible he'll someday play in the NBA.
The Cleveland Cavaliers own his rights, but right now he has too good a deal in Russia to consider a return to the USA.
"I'm very happy to be in a good situation," Kaun said. "I'm really blessed."
Wherever he is ... he continues to keep track of the Jayhawks. Kaun and his wife last year flew from Russia to New Orleans to watch KU play in the NCAA title game versus Kentucky.
"Our coach gave us 2 1/2 days off, so I came up to Taylor and said, 'Do you want to go see the game?' It was crazy because literally we made that decision seven hours before the flight (departed)," Kaun said. "I called to see if we could get tickets and then we went and booked the ticket and got on the plane. It was an unbelievable experience to be there and experience it as a fan rather than a player. To support the coaching staff, the players and the team, I am really glad that I did it."
Of the upcoming season, '08 KU graduate Kaun said: "Last season was great. They'll have a good team again this year. I expect them to do great things. Coach (Bill) Self is phenomenal. Last year, everybody in the preseason was like, 'I don't know how they'll do.' They won the Big 12 again and made the championship game. The coaches and players always do a great job at KU."
This, that: KU commit Conner Frankamp, a 6-0 senior guard from Wichita North, won Friday's three-point shooting contest at the Under Armour Elite 24 game in Venice Beach, Calif. Julius Randle, a 6-9 senior forward from Prestonwood Christian Academy in Plano, Texas, who is considering KU and others, won the slam dunk competition. After the competition, Randle told PrepForce.com that he would definitely make a recruiting visit to KU. The Under Armour game will be contested at 6 p.m., today, Central time, on ESPNU. ... Tyler Roberson, a 6-8 senior forward from Roselle (N.J.) Catholic, will visit KU on Sept. 7-9, Jayhawkslant.com reports. ... Chris Jones, a 5-10 sophomore point guard from NW Florida State College, will visit for the Oct. 12 Late Night in the Phog, Rivals.com reports.
More like this story on KUsports.com