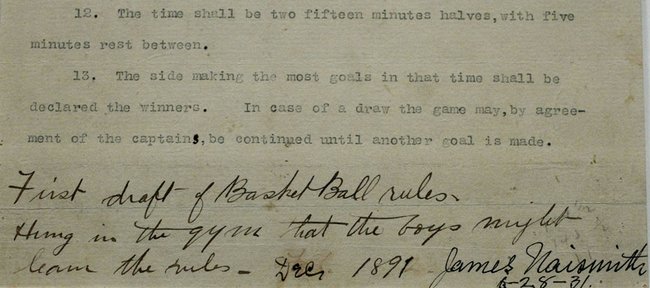 Kansas University has plans to build a two-story student center next to the northeast corner of Allen Fieldhouse that will serve as the new home for James Naismith's original rules of basketball, KU officials confirmed on Wednesday.
Plans are still in the preliminary stages, and many details still have to be worked out, said Dale Seuferling, president of the KU Endowment Association. An architect for the new building could be selected as soon as next month.
"It'll be kind of the place to be on the southern edge of campus for students between classes to drop in, or for faculty to meet for lunch," Seuferling said.
And the focal point, he said, will be a new exhibit for the rules. The building will be connected to the other historical exhibits in the Booth Family Hall of Athletics.
"I think it's spectacular, actually," said David Booth, an Austin, Texas-based investor who purchased Naismith's original rules for $4.3 million at auction in December 2010 before donating them to KU. "The way things have worked out, I'm glad I was able to buy the rules."
The square footage of the space, the look of the building and many other details will come later, after the architect has been selected, Seuferling said.
The building will be funded entirely by private donors, Seuferling said. Several donations have been secured, but he declined to say how much money has been raised or to provide the names of people who have contributed so far.
Plans for who would operate the student center and what kinds of services would be in the building are still undetermined, said David Mucci, director of the KU Memorial Unions.
"It's an interesting prospect, and it meets a lot of natural needs down there," he said, adding he envisioned a space that served many purposes.
Today, the nearby Burge Union is used mainly for office space and meeting space, much of which would not be duplicated in the new center, Mucci said.
"You have a whole new dynamic there, which I think is very exciting for a retail-based community center," he said.
He said he could easily envision a coffee shop, a quick-service food court and Kansas Athletics' KU Store having a presence in the new building.
One option would move the nearby Burge Union's Crimson Cafe operation to the new space, Mucci said. With it could move Kansas Athletics' Jayhawk Training Table program, which provides food service for KU athletes.
"To have a new top-notch facility built for Training Table and to have it in there with a piece of KU history is going to kick it up another notch," Mucci said.