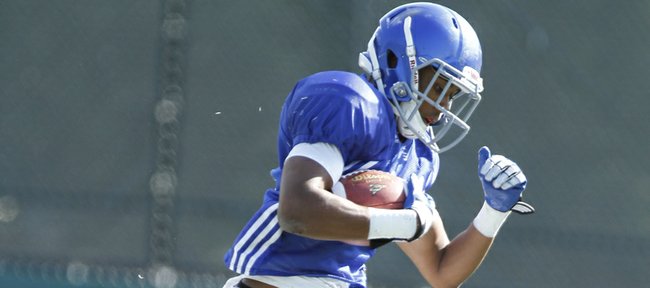 Almost every time Kansas University football coach Charlie Weis addresses the media, wide receiver Tre' Parmalee's name comes up.
There's a reason for that, Weis said Tuesday during his regular weekly news conference.
"He's just made too many plays," Weis said. "He's made 'em in the return game, he's made 'em at receiver, and he makes 'em every day."
Parmalee, a 5-foot-10, 168-pound freshman from Bishop Miege High in Kansas City, was one of six wide receivers whom Weis singled out Tuesday for positive production in camp. KU's three seniors — Kale Pick, Daymond Patterson and D.J. Beshears — have been atop the depth chart since spring practice, but there has been some shifting behind them.
Of the five other wideouts whose names appeared on KU's Aug. 1 depth chart, only two were mentioned by Weis on Tuesday — junior Chris Omigie and sophomore Andrew Turzilli. Josh Ford, Christian Matthews and JaCorey Shepherd were the others on KU's initial depth chart, but it certainly seems possible that their names will not be included on the updated two-deep when it's released next Tuesday.
In fact, Shepherd, a sophomore who was KU's fourth-leading receiver and tied for the team lead with three touchdowns as a true freshman in 2011, spent Tuesday's practice working as a defensive back.
"There's a lot of candidates," said Weis when asked to size up his receiving corps. "And some of them have been a bit of a surprise, moving up or moving down."
Beshears, who said he and Patterson had made it a priority to help Parmalee adjust to college football, said Parmalee had surprised a lot of people with both his ability and his consistency.
"Coming in as a freshman, people just expect you just to go through the motions," Beshears said. "But he's improved every day, he's making great strides and I think he's gonna be a good player here."
Beshears said Parmalee's physical skills were only part of the package.
"He's a pretty smart kid," Beshears said. "Intelligent. He's really focused in the meeting rooms and he's producing on and off the field."
Added Weis: "He's played himself into contention to legitimately be playing. When I brought him in here, I looked at him in his house and said, 'Well, there's a red-shirt.' But you go out there to practice, that's not the way he's played. And everyone will tell you the same thing, from the starting quarterback right on through. All he's done is made plays all the time."
McKinney still coming
The question took a little more than 10 minutes to get to during Tuesday's news conference — the delay designed to disguise overkill — and the answer was pretty much the same it had been all month.
Yes, junior-college transfer Ty McKinney is still coming and, no, Weis does not know when.
"We're in any-day mode," Weis said. "It could be today. It could be tomorrow."
Originally slated to compete for a starting spot along KU's defensive line, the 6-3, 310-pound junior's arrival has been delayed because he has not been able to finish his final junior-college class. According to Weis, McKinney completed all of the course work some time ago, but the school through which McKinney is taking the class has a rule that says the work must be graded before the final exam can be taken. Although frustrating for both the Jayhawks and McKinney, Weis said everyone was keeping a cool head.
"The dean of the school has been very helpful in encouraging the professor of the one class that we're waiting on to finish grading the material so he can take the exam so he can come," Weis said.
The good news, Weis said, is that now that KU has started classes, McKinney would be eligible to jump right into practice without having to go through the acclimatization process required in the summer. In addition, the NCAA offers a grace period for situations such as these. So, as soon as McKinney takes the exam, he will be able to report to campus without having to wait for the exam to be graded.
Although Weis would love to have the big D-lineman plugging up the middle of his defense, he said football was not the only thing he was concerned about.
"We've started school," he said. "We're in class now. What we can't do is let one of our young men come in and get behind academically. Forget about football for a second. Let's let him get settled into his class schedule."
Depth chart nearly set
With just 10 days remaining before the first game of the Weis era, a handful of position battles remain unsettled.
But Weis said Tuesday that most had been settled.
"There's a little juggling," he said. "But I'd say over 90 percent of the depth (chart) that you're getting next Tuesday is already done."
Asked if the players who had won their battles had been informed, Weis grinned.
"No," he said. "We can't tell them. Here's what they know; they know if they're still fighting, they know how close it is. They're not blind. They can watch the tape and see who's playing better than the others and who's getting more reps because of it."
Of the spots up for grabs, only two were for first-string positions, with Tunde Bakare and Prinz Kande battling at Sam linebacker and Aslam Sterling and Riley Spencer competing for the final starting spot on the offensive line. The rest of the battles were for second-string roles. Among the leaders in those spots were junior running back Taylor Cox, who currently sits just ahead of sophomore Brandon Bourbon and behind starter Tony Pierson, and red-shirt freshman quarterback Michael Cummings, whom, Weis said, had a slight edge of sophomore transfer Turner Baty for the No. 2 QB spot behind Dayne Crist.
Spencer returns
Speaking of Spencer, the 6-6, 305-pound junior who missed the past two weeks because of a knee injury returned to practice Tuesday.
Asked how Spencer's presence changed the flow, junior Randall Dent said it did not alter things very much.
With Spencer sidelined, Sterling and junior Gavin Howard have handled the right tackle spot. When Howard, who is listed as KU's starting right guard, has been at tackle, Dent has worked with the first team at right guard.
When asked Tuesday night if his starting line had been established, O-line coach Tim Grunhard did not spoil the surprise.
"That's a question for (Coach Weis)," Grunhard said. "I think you guys can see what's going on."
Surprise scholarships
Four former walk-ons received the surprise of a lifetime last Saturday, as long snapper Justin Carnes, defensive lineman Shane Smith, reserve running back Ryan Burton and safety Brandon Hawks all received word that they would be on scholarship for the 2012 season.
Weis said the opportunity to award the four scholarships came because KU had not reached its maximum of 85 scholarships. He added, however, that the effort turned in by all four players throughout the offseason made it an easy decision to make.
"Justin Carnes is our long snapper, he's been our long snapper and he and Shane Smith are two guys who play on special teams," Weis said. "And then Ryan Burton and Brandon Hawks don't really play too much but they typify what a walk-on should be: A great student, (who) goes and busts (his) butt every day for multiple years.
"As the head coach, together with the administration, watching the team's reaction to those guys, it was pretty good stuff," Weis said.
Weis was not the only one who appreciated the moment. Several Jayhawks said Tuesday that they were thrilled for those four guys, including newcomer Mike Ragone, who has known them for just a few months.
"The guys that were chosen, 100 percent they were deserving of it," Ragone said. "I was just as excited for them as they were for themselves. It was awesome. They work hard every day, they come to work and it's very, very hard for a walk-on, at the Div. I level, to be a part of the team, and these guys are very deserving."
Defense progressing
Several KU coaches said Tuesday that the defense has made great progress during the past couple of weeks, but only one seemed less than thrilled about it.
"It's been a pain in the butt as the offensive coordinator," Weis joked. "It's gotten tougher as the camp's gone on because they've gotten better and better."
Weis followed that comment by quickly changing hats.
"As the head coach, that's a wonderful thing."
With 12 newcomers on KU's defensive two-deep, Weis said the upgrade in talent has done wonders for a defense that ranked among the worst in college football the past two seasons. But simply upgrading the talent has not accounted for all of the upward movement.
"Not only has the competition gotten much, much, much greater on defense," Weis said. "But the pace of practice has picked up considerably — the tempo which they're practicing at, because coach (Dave) Campo has been emphasizing running to the ball, showing effort and all that other stuff."
Grunhard, whose offensive linemen are forced to face the defense every day in practice, said he had noticed great improvement, as well.
"Just as a group, they have really started to do some great things in practice," Grunhard said. "They're coming off the ball, they're playing physical, they're playing low, they're starting to get a little swagger. I really think that group is gonna surprise a lot of people this year."