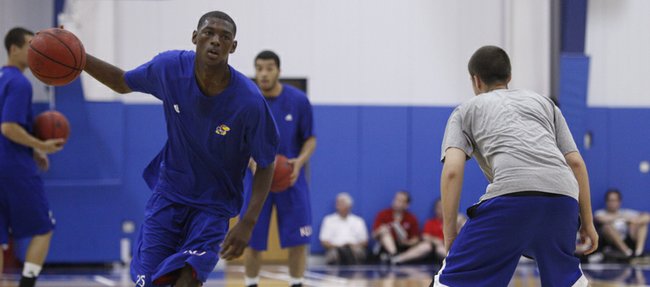 Milt Doyle, who returned to his hometown of Chicago on Aug. 13 for a weeklong visit with his family following Kansas University's basketball excursion to Switzerland and Paris, planned to catch a flight to Kansas City International on Sunday for the start of first semester classes Monday at KU.
He had a change of heart after a serious phone conversation with Jayhawk coach Bill Self.
"We spoke to Milt at length Sunday on what we thought his role would be within our program," 10th-year KU coach Self said Monday in officially announcing the 6-foot-4 freshman guard's decision to transfer to a yet-to-be-determined school.
"We discussed his options, and the first option was welcoming him back for the fall. His leaving is entirely his own choice, one that he felt was best for his future. We expected him to be here, but he thought it was better for him to go to a place where he had a better opportunity to impact a program early in his career," Self added. "We wish nothing but the best for him. He is a great kid."
Doyle, who averaged 19.0 points, 7.0 rebounds, 5.0 assists and 5.0 steals per game his senior season at Chicago's Marshall High, has not announced a possible list of schools. He will have to sit out this season in accordance with NCAA transfer rules. It is possible he would have red-shirted the season had he stayed at KU, but no final decision on that matter had been made, Self indicated.
"We are hopeful he can get in (another) school soon. Surprisingly, there are still a lot of schools with scholarships, and they have major interest in Milton," Doyle's mom, Lisa Green, told the Chicago Tribune on Monday.
"He is OK with that," she added of practicing but not playing in games this season. "He wants to be able to develop as a player, learn that team's program, have room to grow and get his degree."
Green on Monday told the Journal-World there were no hard feelings that things didn't work out at KU.
"Milton likes everyone on the KU team and got along with everyone," Green said via text message. "My son was his (Self's) son's roommate. Coach Self is still cool in my book."
On Sunday, she told the J-W in a phone conversation: "It's nothing bad about the school or the coaches or anything. Sometimes things happen for a reason."
Doyle's departure leaves KU with 12 scholarship players, one under the limit.
"I haven't made a decision on anything yet," Self said, asked if the scholarship would be awarded to Justin Wesley, who was on scholarship last year.
KU currently has five available scholarships to award to players in the high school recruiting Class of 2013. So far, the Jayhawks have landed commitments from Conner Frankamp, a 6-1 senior from Wichita North, and Brannen Greene, 6-4, senior Tift County High, Forsyth, Ga.
McLemore update: Self said KU freshman Ben McLemore (hip flexor) would return to action soon. "Hopefully he'll start working out by the first of next week," Self said.
Recruiting: Anthony "Cat" Barber, a 6-2 senior point guard from Hampton (Va.) High, likely will visit KU the weekend of Sept. 14-16, according to Rivals.com. Barber, the country's No. 9-rated player, is also considering Alabama, Louisville and North Carolina State. Rivals.com reports that two other players — Troy Williams and Tyler Roberson — also may visit that weekend. Williams, ranked 41st, is a 6-6 small forward from Oak Hill Academy in Mouth of Wilson, Va. Roberson, who is ranked No. 53, is a 6-8 small forward from Roselle (N.J.) Catholic High.