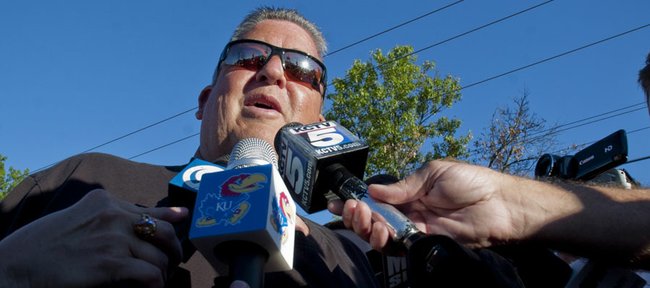 Prairie Village — Kansas University coach Bill Self attended his first Charlie Weis football practice Friday.
"He said, 'Get on the line,' and I ran over there," Self said with a laugh at the seventh annual KU KickOff at Corinth Square. "I was nervous he was talking to me."
In all seriousness, Self left impressed by what he saw from KU's first-year football coach.
"This thing is different. And I'm not blasting before. It's different," Self said. " ... Charlie's style is very direct, very disciplined, very enthusiastic and won't put up with any crap at all."
Weis just smiled when told by a reporter that it was the first time at the alumni event that more folks had shown up to see the football coach than the basketball coach.
"We all know who's boss in this town," Weis said, referring to Self.
When asked what KU fans needed to hear from their football coach at a time like this, Weis cracked another joke.
"They probably want me to introduce Self. That's probably what they want me to do," Weis said. "Really, I'm not going to go up to the fans and make all sorts of promises. I'm just going to say that we're in this together."
Weis made the most of his six minutes in front of the fans, telling them his hope was that they would pack Memorial Stadium in the fall and make it a home-field advantage like Allen Fieldhouse is.
"I can just say I didn't come here with any other mission than KU football being a perennial winning program so in December, you have something to do besides see what non-conference basketball games we've got scheduled before we get going," Weis said. "An issue we'd like to get to around here is not if we're playing in a bowl game; it's just, 'Who are we playing?' That's what we want to get to."
Though he didn't state any specific goals for Year One, Weis said he did want to get it to the point where "we don't want KU to just be looked at as a basketball school only. We want KU to be looked at as a dynamic basketball program, and by the way, they've got a helluva football team, too."
He ended by telling fans that they were especially needed for KU's first three homes games on Sept. 1, 8 and 15.
"If you're leaving at halftime, OK, you and I are going to get into a fistfight," he added jokingly.
More like this story on KUsports.com