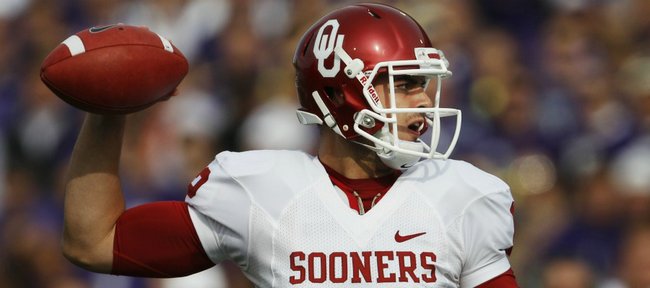 Oklahoma Sooners at a glance
Coach: Bob Stoops
Coach Year at school: 14th
2011 record: 10-3, 6-3 Big 12
Last year vs. KU: Oklahoma receiver Ryan Broyles had 13 catches for 217 yards with two touchdowns, leading the Sooners to a 47-17 rout of the Jayhawks in Lawrence on Oct. 15, 2011.
Returning starters: 17
Impact newcomers: Trey Metoyer, 6-2, 198, WR; Will Latu, 6-5, 315, OT.
Key games: Oct. 13 vs. Texas in Dallas; Oct. 27 vs. Notre Dame; Nov. 24 vs. Oklahoma State.
Vs. Kansas: Oct. 20 in Norman, Okla.
Note: This story is a part of the 2012 KU football preview section that appears in Sunday's Journal-World.
Perhaps the biggest addition for Oklahoma coach Bob Stoops this year wasn't a recruit; instead, it was his brother.
Mike Stoops, who was fired last season after eight years as coach at Arizona, has been brought in as defensive coordinator to help improve a defense that surrendered too many big plays a year ago.
"I do believe in the last couple of years, for whatever reason — and we've really looked at it — that our defense hasn't been quite as strong as what we've been used to in our first 10, 12 years," Bob Stoops said. "So hopefully we can make fewer mental mistakes in some areas and be a little sharper in what we're doing to play more consistently and better defense.
"So that's what Mike will be working hard on. And I've got obviously a lot of faith in him."
Though OU surrendered 376 yards per game last year — a new school record — that number is not as bad as it seems. Because the Sooners' offense runs at such a fast pace, OU's defense faced a whopping 949 plays on defense.
Do the math, and that means OU surrendered 5.15 yards per play, which actually was good for 38th nationally.
The Sooners will have to replace their top two pass-rushers in co-Big 12 defensive player of the year Frank Alexander and All-Big 12 first-teamer Ronnell Lewis and also will be without reliable linebacker Travis Lewis.
Their best returning talent defensively is in the secondary. That includes junior Tony Jefferson, who was selected as a preseason All-Big 12 player at defensive back, and senior DB Demontre Hurst, who was a second-team All-Big 12 selection a season ago.
On offense, OU will be led by quarterback Landry Jones, who returned to Norman after being projected as a likely first-round pick in the 2012 NFL Draft. The senior threw for 4,463 yards, 29 touchdown and 15 interceptions in 2011 and already is the program's all-time leader in passing yards with 12,379.
"I know he's doing all he can to have a big senior season," Stoops said. "It only happens when guys around him are going to catch the ball and not drop it and be in the right places and those kind of things. So we've got to make sure all that's happening."
Wichita native Blake Bell once again should be relied upon in OU's "Bell Dozer" formation, as the 6-foot-6 quarterback is used similar to the New York Jets' Tim Tebow in short-yardage situations.
"Blake's an excellent athlete, continues to do well," Stoops said. "He throws the ball well. But we're not going to alternate quarterbacks."
The Sooners' top two running backs return in Roy Finch and Dominique Whaley, and though All-American receiver Ryan Broyles has graduated, junior Kenny Stills already has shown he can be a playmaker.
After Broyles went down with a torn ACL on Nov. 5 against Texas A&M;, Stills stepped into the No. 1 WR role, finishing with 849 receiving yards and eight touchdowns.
More like this story on KUsports.com