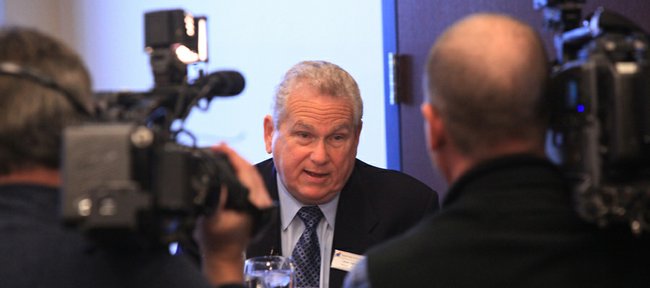 Note: This story is a part of the 2012 KU football preview section that appears in Sunday's Journal-World.
During Kansas University's forgettable 2010 and 2011 college football seasons, the defense consistently ranked among the worst in Div. I and too often forced KU to play from behind.
With a new coaching staff in place and a depth chart that figures to feature nearly a dozen new names on the two-deep, there is reason for hope for the 2012 version of KU's defense.
While the new players — freshmen and transfers alike — will go a long way toward improving KU's play, the man in charge of it all brings an enormous amount of clout and respectability.
"I wanted somebody that speaks the same language as me, (and) he certainly speaks the same language as me," said KU coach Charlie Weis of new defensive coordinator Dave Campo. "I was looking for something like this. When everyone else wanted me to go hire this person or hire that person or that person, I was looking for a concept, and once I saw that somebody I knew and that I could trust that fit that concept, I knew it would be right."
Although Weis will still have plenty of impact on the defense, the day-to-day stuff will be left to Campo, who has experience both as a head coach and defensive coordinator with the Dallas Cowboys. That's good news for Kansas, according to a former Dallas colleague of Campo's.
"When I think about it, Dave knows every position," former Dallas head coach Barry Switzer said. "He can coach any position on defense. He spent too many hours and looked at too many tapes of too many players to not be any good at it."
DEFENSIVE LINEMEN
Although Weis, Campo and defensive line coach Buddy Wyatt did their best to upgrade the talent on the defensive line, KU's front four remain one of the biggest question marks on this team. With just a couple of returning players capable of landing on the depth chart, KU's D-Line will count on several newcomers to improve a unit that struggled mightily under former coach Turner Gill.
Junior college transfers Ty McKinney (Trinity Valley CC), Keon Stowers (Georgia Military) and Jordan Tavai (El Camino CC) all figure to play immediately, with two of them having the potential to start at defensive tackle. Their presence, along with the return of injured tackle John Williams and converted defensive end Keba Agostinho, who's up 30 pounds from 2011, should give KU better size and depth in the middle. On the edge, the Jayhawks will be bolstered by another transfer, as former Nebraska defensive end Josh Williams comes to Kansas to play out his eligibility. The fifth-year senior who played in two dozen games at NU and started a few has the kind of size, speed and tenacity that could make him the first true pass rusher at KU in years.
Spring game standout Michael Reynolds, a sophomore, will add depth and experience, as he joins senior co-captain Toben Opurum in splitting time between defensive end and Sam linebacker.
LINEBACKERS
Like the defensive line, there are plenty of new faces in place at linebacker, and, also like the D-Line, many of those new faces figure to play key roles in the middle of KU's defense this season.
Two of the most talked about linebackers this offseason were newcomers Schyler Miles, a true freshman from Tampa, Fla., who chose KU over Florida, and Anthony McDonald, a fifth-year transfer who played for Weis at Notre Dame. Regardless of whether either will start, both will play a ton of snaps this season and should upgrade KU's linebacking corps considerably.
The rest of KU's options at linebacker have plenty of experience, but varying degrees of success. Seniors Toben Opurum and Tunde Bakare along with juniors Darius Willis and Huldon Tharp all have starting experience, and fellow-returner Ben Heeney was one of KU's few bright spots on special teams last season.
The rest of the bunch, including newcomers Jon Shelby and Courtney Arnick, along with seldom-used returners Jake Love, Prinz Kande and Tyler Hunt, will look to provide depth to a group that Weis said would play its first and second units throughout the season.
This offseason, Campo said he wanted to play guys who could run. Bakare, Tharp and Heeney seem to have the most speed of the returning players, and Arnick appears to be the fastest newcomer.
DEFENSIVE BACKS
In late June, Weis gave a handful of reporters a small hint about his depth chart that figures to change at least a couple of times between now and the start of the season.
That hint concerned KU's secondary, which Weis said would remain the same from the depth chart he put out this spring.
That means senior Greg Brown and junior Tyler Patmon will fight to remain KU's starting cornerbacks and seniors Bradley McDougald and Lubbock Smith would seek to hold their starting spots at safety.
Because of that group's experience and past success, it's likely that those will be the guys who line up with the first string when KU trots its defense onto the field on Sept. 1. But that's not to say there won't be guys behind them trying to unseat the veteran starters.
The cornerback position will be bolstered by three newcomers — freshmen Greg Allen and Tyree Williams and juco transfer Nas Moore — and the return of senior Corrigan Powell.
KU's safety spot has more depth but even more unproven players, as only sophomore Victor Simmons has experience at the position during live games.
Freshman Tevin Shaw, who was recruited as both an all-state running back and safety out of Piscataway, N.J., elected to begin his career on defense and could find his way onto the field rather quickly. Other safeties who will push McDougald and Smith are: junior Dexter Linton, sophomore Ray Mitchell and wide receiver turned safety Brian Maura.
Regardless of who plays where, Campo's defensive backfield figures to show more press and man coverage than in recent years and the days of the 10-yard cushion at the line of scrimmage appear to be long gone.
More like this story on KUsports.com