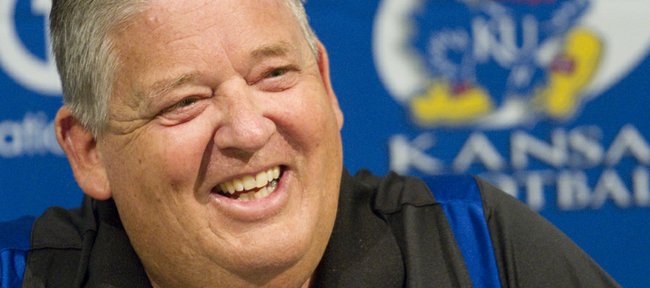 Note: This story is a part of the 2012 KU football preview section that appears in Sunday's Journal-World.
Sheahon Zenger, the latest athletic director to try to prove that establishing Kansas University as more than a basketball power is just one good football-coach hire away, very easily could have talked himself out of entrusting Charlie Weis with the job.
After five seasons at Notre Dame, Weis' last team performed considerably worse than his first. His defenses got abused consistently and the same influential alumni who treated him like Fighting Irish royalty after his quick start couldn't wait to get rid of him by the end.
In one season (2011) as Florida's offensive coordinator, Weis bossed an offense that finished 105th in total yards with 328.69 per game, one spot and 1.86 yards ahead of the Kansas offense Jordan Webb triggered under Chuck Long's watch.
Instead of harping on why it might not work, Zenger reached for a star and landed a bigger coaching name than anyone ever had enticed to come to KU. Zenger's vision wasn't trained on a stat sheet that revealed Florida's shortcomings in one year with Weis. The AD's focus didn't settle on how Weis' act played at his alma mater.
Zenger hired a brain that tends to think a lot about 11 moving parts, a rare mind well-versed in many areas that extend beyond football, and a strong personality that sets extremely high expectations and uses psychological ploys to help his players reach them.
Before Weis talked much football at team gatherings, he made a point to single out the strongest students on the team — having them stand up as he recited their scholastic accomplishments — sending the message if you want to stand out in Weis' football classroom, the first way to do it is in your academic classrooms. The team GPA soared from 2.46 in the fall semester to 3.0 in the spring, Weis' first full semester as coach.
Termed a "big stinkin' deal," by Paul Buskirk, associate athletic director for student support, Weis' results as self-appointed academic liaison bode well for how the players will respond to him in the football meeting rooms and on the field. Clearly, he has commanded the respect of his players.
But will his offense that sputtered at Florida, which has far speedier athletes, work for Kansas?
Yes, provided the blocks are there and the quarterback remains healthy.
In Dayne Crist, a fifth-year player who chose Kansas over Wisconsin and Delaware after graduating from Notre Dame, the coach has a QB who knows Weis' offense far better than any Gator did, having spent two seasons studying it under Weis.
Additionally, three of Weis' five offensive assistants have worked for him elsewhere. Rob Ianello held key spots on Weis' offensive staff for five seasons at Notre Dame, where KU quarterbacks coach Ron Powlus had that title in three of his five seasons under Weis. Tight ends coach Jeff Blasko served Weis as Florida's quality-control coach for the offense. Blasko also worked two seasons at Akron under head coach Ianello and Powlus, passing-game coordinator/quarterbacks coach.
"I think the experience of us being in the same room, on the same page, knowing what direction we're headed, it's been a tremendous benefit for us offensively," Ianello said. "... I can remember at Notre Dame — I don't think coach even knows this — I had a cheat-sheet at the beginning until I felt comfortable with the system."
As offensive coordinator with the New England Patriots, head coach/OC at Notre Dame and as OC with the Kansas City Chiefs, Weis not only showcased a special knack for developing quarterbacks, but for calling plays in a way that caught defenses by surprise.
As both offensive coordinator and head coach for Kansas, Weis needs two intertwined factors to go well in order to befuddle Big 12 defenses: Crist, twice set back by major knee surgeries at Notre Dame, must stay healthy. And the offensive line, well-stocked on Crist's blind side but iffy on the right side, must do a consistent job of protecting the quarterback.
Unlike the prototypical Big 12, quick-hit spread offense, some of the plays in Weis' pro-style attack take awhile to develop. If the blocking breaks down, that increases the chances the quarterback will do the same.
Kansas remains the consensus pick for last place in the 10-team Big 12, so there's no guarantee Weis' first Jayhawks offense will more closely resemble those of the Patriots and Fighting Irish than the Gators. This much is certain: Watching how this all unfolds promises to make for most-compelling theater.
More like this story on KUsports.com