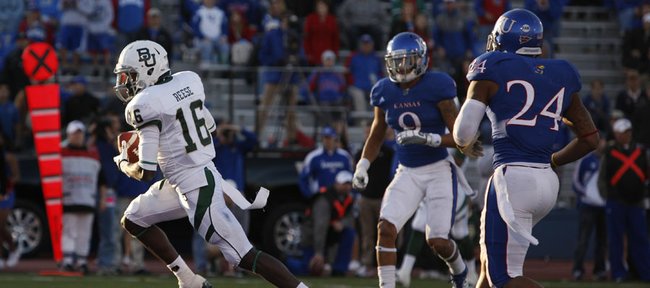 Baylor Bears at a glance
Coach: Art Briles
Coach Year at school: 4th
2011 record: 10-3, 6-3 Big 12
Last year vs. KU: The Bears put together the largest fourth-quarter comeback in school history, rallying from 21 points down to defeat the Jayhawks, 31-30, in overtime in Lawrence.
Returning starters: 16
Impact newcomers: Lache Seastrunk, 5-10, 205, RB; Javonte Magee, 6-5, 262, DE.
Key games: Oct. 13 vs. TCU; Oct. 20 at Texas; Dec. 1 vs. Oklahoma State.
Vs. Kansas: Nov. 3 in Waco, Texas.
Note: This story is a part of the 2012 KU football preview section that appears in Sunday's Journal-World.
The question at Big 12 media days to Baylor coach Art Briles was simple: How do you adjust to not having the Heisman Trophy winner (quarterback Robert Griffin III) on your team anymore?
"That's the thing that inspires us. That's the thing that makes our guys come together and fight for each other and work to prove themselves, because we're in the proving business," Briles said. "We're not in the business of getting close and saying, 'Maybe' and, 'Gosh, I wish.' We're in the proving business. Our job is to win football games."
It'll obviously be tough to match the success last season, which was one of the best in Baylor history.
The Bears won 10 games — the most for the program since 1980 — and also had their first Heisman Trophy winner in Griffin, who went No. 2 in the 2012 NFL Draft.
"What we have to do is figure out ways to fill in the gaps, because Robert created a bunch of gaps," Briles said. "His ability from somebody else's is a big gap. We have to fill that in with a variety of different methods, schematically, personnel‑wise and motivational‑wise and inspiration‑wise that will give us an opportunity
to stay at the level we finished at last year."
Griffin wasn't the only talent that left Waco after the season, though.
Receiver Kendall Wright, who had 1,672 receiving yards a year ago, went 20th in the first round of the draft. Underrated running back Terrance Ganaway and offensive lineman Robert T. Griffin also were seniors, leaving the Bears with quite a few spots to fill.
Senior Nick Florence will be Baylor's new quarterback, though he's attempted just 24 passes in the last two years combined.
He'll most likely rely on other BU playmakers to carry the offensive load.
That includes running back and Oregon transfer Lache Seastrunk, who had seven carries for 138 yards during the Bears' spring game.
"(Lache) is a very dynamic player that has three years left that we're anxious to see what he can do when there's people in the stands hollering," Briles said, "because he's got ability, and ability is certainly something that's hard to hide."
Senior Jared Salubi also returns, and he's averaged 6.3 yards per carry in his Baylor career over limited rushing attempts.
BU returns depth at receiver as well, including senior Terrance Williams and junior Tevin Reese, who both had more than 50 catches a year ago.
Baylor returns eight defensive starters, but that might not be an advantage based on the way the defense performed a year ago.
The Bears allowed 37 points per game in 2011 and also had just 19 sacks despite the fact that opponents attempted 495 passes against them a year ago.
Baylor is hoping that 6-foot-5, 262-pound true freshman Javonte Magee —the seventh-best defensive end in his class, according to Rivals.com — can help create more of a pass rush.
More like this story on KUsports.com