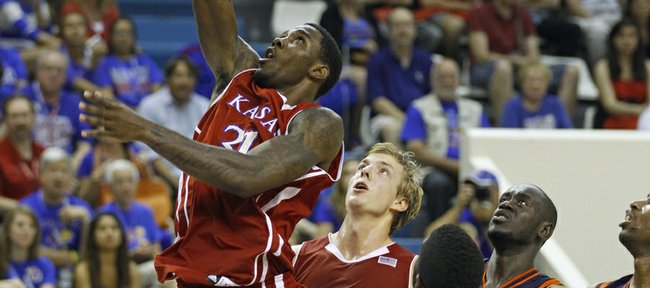 Paris — Kansas University basketball coach Bill Self wasn't in the mood to discuss moral victories following the Jayhawks' 74-73 exhibition loss to AMW Team France on Saturday at Stade Pierre do Coubertin.
"You've got four returning guys that have been told for three months how great they are and all this and all that. Hey, they were humbled," Self said of returning rotation players Elijah Johnson, Jeff Withey, Travis Releford and Kevin Young. "All of them got their butts handed to them by pro players in France.
"So if you think you're an NBA guy, and you can't handle a guy in France, then probably you're not an NBA guy. So they've all been humbled. They know now they've got to get to work, because that was a good water in the face for all of us to know that, 'Hey, nobody cares what happened last year.'"
KU ended a 41-game exhibition win streak that stretched back to 1995 with the loss, though the Jayhawks still had their chances to win at the end.
After trailing by as many as 10 in the second half, KU turned to its playmaker, Young, who came through with the Jayhawks' biggest play for the third straight game.
Off a quick feed from Johnson, Young put in a baseline slam with 22 seconds left to give the Jayhawks a 73-72 lead.
After a timeout, Team France's Diot Antoine was fouled on a drive by Zach Peters with 6.1 seconds left and made both free throws.
On KU's final possession, Johnson drove the length of the floor before kicking out to Naadir Tharpe for an open three-pointer on the left wing.
The shot hit front iron before bouncing away.
"I thought it was going to go in. As many shots as I didn't shoot well tonight … I felt like that last shot that I shot was going to be able to go in," said Tharpe, who scored eight points on 4-for-11 shooting from the floor and 0-for-5 from three. "But it didn't fall. I'm going to get another chance to shoot that shot, and I'm going to be ready to knock it down."
KU played once again without freshman guard Ben McLemore, who continues to be hampered by a sore groin.
Self still wasn't taking it easy on his guys.
"We're not very good at all. We can improve on everything," Self said. "I would just like to be able to pass and dribble and catch. That would be a good starting point. Forget about shooting or guarding or anything."
KU had 27 turnovers, compared to 23 for AMW.
Self was so frustrated with his returning players that he started the second half — KU led, 36-34, at the break — with a lineup of that included walk-ons Evan Manning and Niko Roberts.
"To be honest with you, I just thought that our main guys were so bad they didn't deserve to play," Self said. "I really thought that if we hadn't have played some of those guys, we would have had a chance to have had a bigger lead at halftime. Obviously, we had to play them to have a chance to win the game, but I wasn't happy with any of them. I didn't think any of them played worth a flip."
Johnson, who finished with five points on 2-for-10 shooting to go with four assists and two turnovers, said his coach's assessment of the veterans was accurate.
"A lot of people go against the grain, or a lot of people just say what they think they should say in the interview. But I personally agree with him," Johnson said. "He's setting standards right now. Last year, he set standards, and it got us second place, which disappointed our whole state.
"So I understand everything he's doing and setting standards and wanting more out of us, because he knows he can get more out of us. So why not test us? Why just say, 'Hey, it's OK, Travis. It's OK, Elijah. It's OK, Jeff. We lost. It's OK.' It's not OK."
The Jayhawks, which fell to 2-1 on their exhibition trip, will face AMW Team France again at 1 p.m. today (Central time) in the final game of their European tour.
Self believes his team can play better than it showed Saturday.
"We weren't ready to play," Self said. "Maybe Paris can do that to you."
More like this story on KUsports.com