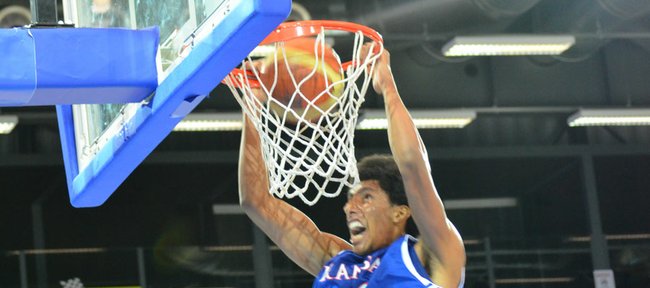 Fribourg, Switzerland — Elijah Johnson believes Kansas University's come-from-behind, 83-79 victory over the Swiss national team Wednesday had greater significance than an early August exhibition game.
Instead, it was more like an introductory course for KU's eight newcomers on how the Jayhawks play.
"Now the team knows that it doesn't matter if we're all the way in Switzerland or in the Final Four. We've always got a chance to come back," Johnson said. "I want to show these young guys that that's what we do here no matter what.
"It's a time we just clench in, and nobody knows what's going to happen but Kansas."
Much like a few of their NCAA Tournament games a few months ago, the Jayhawks thrived when it mattered most on Wednesday, ending the game on a 10-2 run after trailing 77-73 with 1:30 left in the fourth quarter.
The run was sparked by Kevin Young, who for the second straight day was KU's best player in the clutch.
After senior point guard Johnson missed two free throws, Young started to "play Superman" according to Johnson, grabbing an offensive board and putting it in for two.
About a minute later, he grabbed another Johnson miss before putting in a stickback to tie the score with 30 seconds left.
"I knew he was going to come through in the fourth quarter," KU freshman Andrew White said, "just because the guys that play the hardest, usually something good happens."
Young gave KU the lead for good thanks to his knowledge of the game.
KU's Jeff Withey blocked a Swiss shot with 20 seconds left, and as he caught the block, the shot clock expired.
While most players stood around to wait for the shot-clock violation, Young knew from his previous experience with international play that if the offense possesses the ball when the shot clock goes off, no violation is called.
"So I started taking off. I beat everybody down the court," Young said. "Jeff was still holding the ball, so I looked back to see what was going on."
After a few seconds, Withey passed ahead to Travis Releford, who threw it to Young for a slam that put KU up, 81-79, with 13 seconds left.
Young screamed out his satisfaction following the dunk, one that resulted in Swiss coach Sébastian Roduit kicking a black barrier by his bench in frustration.
"Young made all the plays down the stretch," Self said. "He drives me nuts because he does things all the time that bother me. Then when the game's on the line, he usually comes up with some extra possessions and some key plays. That was certainly the case (Wednesday)."
Switzerland missed a long three-point try with five seconds left, and White sealed it by grabbing the defensive rebound and putting in two foul shots with 2.6 seconds left.
"I think that was the best part of this trip so far is we had a major test early," White said. "I know it was nothing like a game, but it felt like something we needed to win. We had all these fans here, all these people. We needed to win this game."
Johnson also wanted to play well for the approximately 200 KU supporters in the crowd.
"It made me feel good to look over and see the coaches' wives smiling and knuckling down and showing us the same thing they show us when we're in the States," Johnson said. "We're doing it for our program, and I felt like our program came over here with us."
White led KU with 16 points on 6-for-9 shooting. He also went 2-for-3 from three-point range.
"He's not scared," Self said. "We've got some other guys out there playing passive, and here's a freshman … I don't know who our leading scorer is in the two games we've been here, but it may be him (White leads KU with a 13-point average). That's not a lot of points, but still though, that's pretty good that he's aggressive enough to believe that he can score."
Johnson added 14 points, while Young contributed 12 on 6-for-7 shooting.
Withey also posted a double-double with 10 points and 10 rebounds.
The Jayhawks won despite arriving at Fribourg Arena just 45 minutes before their game after leaving a sightseeing trip later than they had previously scheduled.
KU also shot just 19 free throws compared to Switzerland's 38. In the first half, the Swiss had 20 free-throw attempts to KU's four.
"For us to come out of here with two wins under the situations that we've been dealt here is pretty good," Self said. "I'm not going to use that as an excuse, and I won't let the guys use it, but there's no question the guys are a little jet-lagged to say the least."
KU, which improved to 2-0 on the exhibition trip, will play AMW Team France at 1 p.m. CDT, Saturday in Paris.