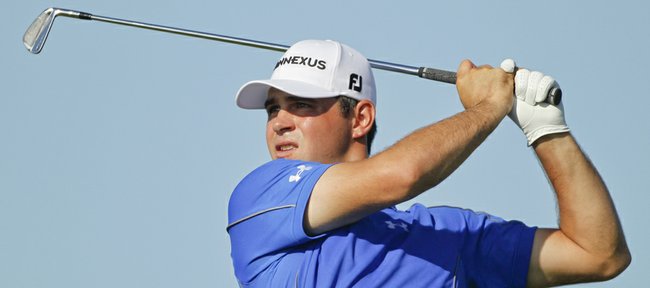 Former Kansas University golfer Gary Woodland carded a first-round, 5-under par 67 Thursday in the opening round of the PGA Championship, the final of the PGA Tour's four major tournaments.
Woodland is in a four-way tie for second place with Gonzalo Fernandez-Castano, Rory McIlroy and Alex Noren, one stroke behind leader Carl Pettersson.
Woodland teed off the back side of the Ocean Course and had an eagle, four birdies and one bogey on the day.
"I drove the ball the best I've driven it all year," said Woodland, one of the most powerful players in the game. "And when I drive it like that, I'm playing a game that most guys can't play out here."
Woodland told reporters after the round that he played pain-free. He has played with pain in a wrist since the injury forced him to withdraw from the Masters up until recently.
Dropped by his long-time swing coach after Woodland dropped his son as his marketing manager, Woodland has worked this year with legendary swing coach Butch Harmon.
"The main deal is I'm healthy now," Woodland said in the press tent after his round. "The British Open was the first tournament I played this year where I didn't have pain."
The injury limited Woodland's practice time with his new swing coach.
"Now Butch and I can work," Woodland said. "It's just a process obviously making changes, but when you're not able to do it, it's tough. The last couple weeks Butch and I, we've worked as hard as I've probably worked in my life, and it's nice to be able to do that being healthy."
Woodland tees off on No. 1 at 12:10 p.m. today with Darren Clarke and Ryo Ishikawa.
Pettersson made Kiawah Island — which a leading golf publication five years ago tapped as the toughest golf course in America — look like a walk on the beach.
There was no wind in the morning when Pettersson made three birdies on the opening four holes, and not even a freshening breeze could keep the self-proclaimed Swedish redneck from a bogey-free round of 6-under 66. It was his first time in 21 tries to break 70 in the PGA Championship, and it gave him a one-shot lead.
McIlroy was on the practice range in what he described as "flat calm."
"I really thought that I had to take advantage of the conditions," said McIlroy, who did just that in a bogey-free round of 67, fresh signs that the 23-year-old from Northern Ireland might be ready to end his major season on a high note.
A hot but picturesque day along the coast of South Carolina even brought John Daly back into the picture at the major where he first came to prominence 21 years ago. Daly, who hasn't had his PGA Tour card in six years, made an eagle putt and very few mistakes for a 68.
Pete Dye's intimidating Ocean Course might still get the best of them in the final major of the year. But for one day, it was there for the taking.
"There really wasn't much wind on the front nine, so I knew I had to keep going low because I figured the wind would get up," said Pettersson, who won earlier this year down the coast at Hilton Head. "The wind started blowing a little bit on the back nine, and I carried on solid play. So it was a great day for me."
It was a good day for Tiger Woods, nothing more.
Despite having to get up-and-down for bogey on three holes, he made enough birdie putts for a 69, a reasonable start as he tries to end the longest drought of his career in the majors. This is his 14th major since he won his last one in 2008, and the last one of an otherwise good season.
"Anything in the 60s is going to be a good start in a major championship," Woods said. "And I'm right there."
Daly was in the group at 68 that included former U.S. Open champion Geoff Ogilvy and defending PGA champion Keegan Bradley, who had a birdie-eagle start before he settled into his round.
Adam Scott, in his first major since throwing away the British Open with four bogeys on his last four holes, also had a 68 to quickly get back into the mix.
"So far, so good," Scott said. "It would be great to put two more rounds together and be coming here Sunday with a good look at the championship. If I don't, then I'll really feel like I've let it all slip this year for me. So I'd love to use this opportunity while I'm playing well to get in there and have a sniff on Sunday."
The group with Woods at 69 included Ben Curtis, Ryo Ishikawa of Japan and Pat Perez, playing his first major this year.
Phil Mickelson, holding down the eighth and final spot in the Ryder Cup standings, was all over Kiawah Island and did a remarkable job scrambling to salvage a 73.
"I fought hard today and I kept myself right in it for the most part and should get a bit of a weather break tomorrow morning," Mickelson said. "It actually felt a little bit closer than it has in a long time. I felt good on the green. My touch was back. I started hitting some shots at some pins."
More like this story on KUsports.com