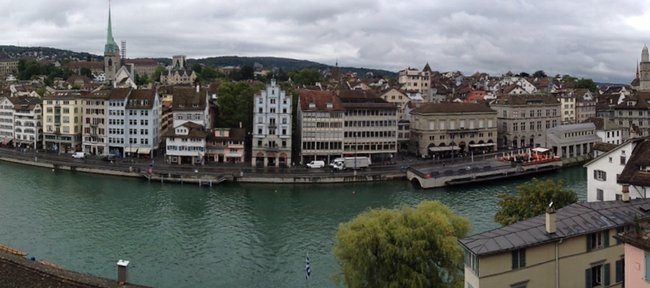 Zurich — About 100 Kansas University men's basketball fans gathered at the second floor ballroom of the Marriott Zurich on Monday night, enjoying a four-course meal while overlooking a Switzerland sunset through ceiling-high panoramic windows.
Only one thing was missing: the guests of honor everyone came to see.
The KU players and coaches were absent for the first full day of festivities in Europe after weather-related flight problems kept the team in Washington, D.C., overnight Sunday.
"Everybody I think is excited to meet the new players on the team. It's always electric to be around KU basketball," Shawnee native Connie Puett said. "I do feel bad (for them). We're enjoying a great meal, and they're going to be jet-lagged in here (today), especially with the layover and extra time they've had to spend to get here."
The Jayhawks finally were able to leave Washington's Dulles Airport at 3:05 p.m. Eastern time Monday on Lufthansa Airlines and landed in Frankfurt, Germany, late Monday.
The squad was set to board a connecting flight to Zurich, where it should arrive somewhere around 9 a.m. (local time) today — or 2 a.m. U.S. Central time.
KU still plans to play the Swiss National team at noon Central time today, which is 7 p.m. in Switzerland.
The Jayhawks' absence didn't stop KU fans on the trip from enjoying the first night of their vacation. Laurence "Larry" Brown, who graduated with his bachelor's and master's degrees from KU in 1964 and '67, volunteered to lead the "Rock Chalk Chant" before dinner.
"It's too bad (for the guys), but the alumni are having such a good time getting together, because there's people from all over the place and different years in school," Brown said. "We're all telling stories and having a good time."
Brown, who lives in Houston, served as the KU alumni chapter leader in that city from 1994-2007.
"This is a really good turnout for something like this," Brown said. "I think they'll be very amazed and pleased. I know I would be if I was a player ... 100 people to help cheer us on, that would be great."
Puett, a 1972 grad, had never been to Europe before Monday.
A longtime KU fan, she met her late husband, Eldon, when he performed as the mascot Big Jay in the early '70s.
After receiving an e-mail about the tour, she ran the idea by her son, Jason, and daughter, Lindsay, before making her final decision to take the trip by herself.
Puett shared Monday's dinner table with five other women she'd just met.
"My son said, 'What could be better than to go to Europe and get to watch KU basketball?'" Puett said. "It's like a win-win situation."
Topekans Clyde and Janis Holiwell, who have been married for 20 years, saw the same sort of opportunity with this year's exhibition trip.
"We would have never come to Europe by ourself," Janis said. "This is a really neat opportunity to come with a group like this."
The Holiwells, who also made trips to Maui and the Final Four in New Orleans with KU basketball in the last year, said they weren't expecting perfection from the Jayhawks — especially with the travel delays.
"However the guys play here is OK," Clyde said. "I think with this particular team, with so many freshmen … I think it's just a jelling-and-trying-to-get-them-chemistry kind of thing. That's the main thing we're looking forward to.
"We want to win the games, of course, but if we don't, it's not a big deal."
More like this story on KUsports.com