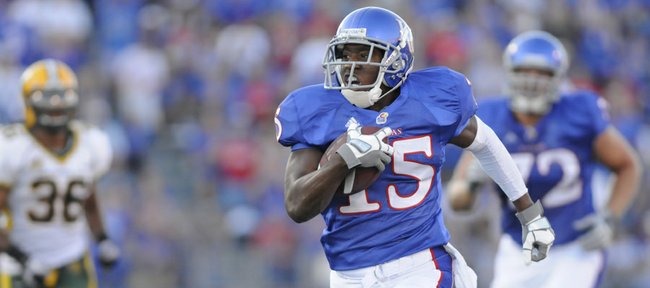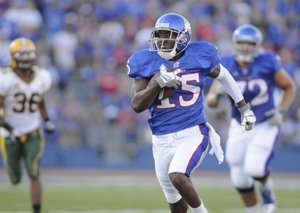 When Kansas University wide receiver Daymond Patterson first realized that the groin injury he suffered early in the 2011 season opener would keep him out for an extended period of time, his thoughts quickly shifted to 2012.
"I rehabbed as fast as I could," Patterson said. "But it wasn't fast enough to get back."
So instead of playing out his senior season, which he hoped would propel him into an opportunity to play professional football, Patterson sat out and watched his teammates limp to a 2-10 season.
When the Jayhawks were drubbed at Georgia Tech, Patterson was forced to watch on television, marking the first time in his KU career that he did not travel with the team. At other games — home games, even — Patterson sat in the stands and watched "just like any other person."
It killed him.
But it also drove him, and, instead of pouting, the man known as "DP" hit the weight room, studied extra film and tried to take his skills to a higher level.
As the veteran receiver works his way through his first week of Charlie Weis' preseason camp — Patterson's third head coach at Kansas — the long road appears to be paying off.
"I've fine-tuned my game, and I feel like I'm an overall better receiver," Patterson said. "Routes … size … I just knew it would all work out in the end. We got Coach Weis now. Dayne (Crist) came in at quarterback. I'm really close to both of those guys, and I just feel like everything's in a good position for me to be successful this year."
That feeling, good as it may be, has not tricked Patterson into pulling back. Up 12 pounds from his previous heaviest playing weight, the 5-foot-8, 180-pound playmaker believes that even though the improvements have set him up for a monster season, he wants more.
He's particularly pleased with the status of his route-running, which took a hit after he switched from receiver to defensive back early in his KU career.
"I felt like that was the best part of my game when I got here," Patterson said. "And I still ran good routes when I came back, but I didn't feel like it was where I was when I first got here."
The crisp routes are there again — sharper even. And that, he says, only makes him a more dangerous weapon. As for the added weight, it's good weight, he insists, and it has not taken away any of his electricity.
"It hasn't," he said, grinning. "It took me a little while to get used to (the) conditioning, just putting on the extra weight. But as far as speed and quickness, it hasn't hampered me at all."
While Patterson is by far KU's most
experienced wideout, his veteran status has done nothing to change his attacking mentality, much to the delight of receivers coach Rob Ianello.
"Daymond certainly has been here quite some time and has some experience to him," Ianello said. "But everybody here is in their first training camp in our system, and we're just continuing to grow and work, and Daymond's no different than any of the other receivers in that regard."
Crowded position
A quick look at the 2012 Kansas University football roster reveals that the team has a ton of receivers.
Ianello, who spoke with the media prior to Sunday's practice, explained how the coaching staff will decide which play and which don't.
"If you've got a guy who's got size and speed and quick feet and good hands and all that, then that's the guy you want," said Ianello with the kind of smile that showed he knew he was stating the obvious. "But we're just trying to, within the framework of our offense, develop the players we have, and then coach (Weis) will find ways to use the guys we have and showcase their abilities."
In addition to seniors Patterson, D.J. Beshears and Kale Pick, Ianello rattled off seven other names who were in the mix.
"We have a lot of other emerging guys, like Chris Omigie and Drew Turzilli, JaCorey Shepherd, and then we have a couple of new guys — Tre Parmalee and Josh Ford," said Ianello, who later praised sophomore Ricki Herod's maturity. "Christian Matthews … he's battling. We've got great competition, great spirit, and it's a fun group to work with."
Go-to guy?
If Ianello's time in Weis' offense has taught him anything, it's that the ball can be spread easily.
"We've had tight ends catch a lot of passes, we've had receivers catch a lot of passes. I would think the backs certainly will be a factor here," Ianello said.
Having a go-to wide receiver is not a necessary staple of the offense.
"It's a personnel-driven system," Ianello said. "And as we get through training camp and we see where our personnel sits, coach will design a system that will take advantage of the playmakers, whatever position they are."
More like this story on KUsports.com