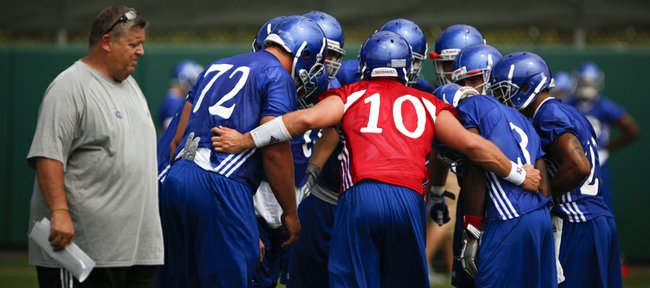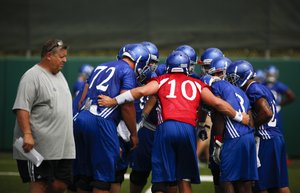 Throw. Run. Lead. Console. Counsel.
The many jobs of a quarterback run the gamut of actions and emotions, and the way each is executed, as well as the demeanor with which the quarterback operates, can make or break a team.
Teams fortunate enough to have an unflappable presence taking snaps have the chance to win a lot of games. Teams with a signal caller as temperamental as he is accurate could be in for a long and unpredictable season.
Few places have seen the ebbs and flows of the quarterback position like Kansas University, which has enjoyed wild success from John Hadl, Bobby Douglass, David Jaynes and Todd Reesing, but also seen as many as three or four quarterbacks start during a couple of different, difficult seasons.
While there are plenty of obvious advantages that go along with having a reliable quarterback, the benefits go far beyond scoring points. Quality quarterback play can do wonders for every position on the field, and with fifth-year senior Dayne Crist slated to start for the Jayhawks this fall, KU's assistant coaches recently weighed in on how Crist can be a factor all over the field.
"To me, it's No. 1," defensive coordinator Dave Campo said of top QB play. "When I was the head coach of the (Dallas) Cowboys, I didn't have a quarterback. I believe you really can't win without a quarterback. You have to have a leader that steps out of that huddle and commands some respect and has some talent. And I think the guys that we've got in here are beyond my expectation."
Although Campo was snake-bitten as a head coach, he was coaching defense in Dallas when Hall of Famer Troy Aikman led America's Team to multiple Super Bowl titles. Few have called Aikman one of the finest physical passers to play the game, but Campo said Aikman was stellar at running a team.
"That's what he did," Campo said. "He came in, and he was in control from the very beginning, and I think that's a big part of it."
Sounds a little like the guy KU has calling the shots now.
Even though Crist's five-star ranking and Notre Dame-signing days are behind him, he's arguably the best pure quarterback to call plays at Kansas in years. From his prototypical 6-foot-4, 235-pound frame to his advanced intelligence and understanding of both the game and KU coach Charlie Weis, Crist's mere presence on the roster, within the huddle and in the locker room, already has made a positive impact on the Jayhawks.
"It's huge," tight ends coach Jeff Blasko said, "especially in this offensive system. It's a quarterback-driven system. For it to have any success, you need someone who is skilled at that position."
While Crist is new to several of the KU coaches, players like him are not. Nearly all of Weis' assistants have worked with at least one big-time quarterback during their careers. Aikman. Brady. Clausen. Harbaugh. Reesing. Tebow. Quinn. And those are just the headliners.
Quarterbacks coach Ron Powlus actually was one of those QBs, and during his four years as Notre Dame's starting QB, Powlus learned not only what it took to be a productive leader, but also why.
"The quarterback doesn't have to be the best quarterback ever," Powlus said. "But when he is the guy the team rallies around, that's when you have an opportunity to have a good team. It's hard to have a team succeed when there are quarterback issues — hard, hard, hard, because all eyes are on the quarterback all the time."
Powlus said he had not seen anything negative from Crist since the moment he arrived.
"Leadership, experience … you can tell that he's been there, done that," Powlus said. "He had a very good understanding of our offensive system, which kind of permeated through the rest of the offensive players."
The guys he's throwing or handing off to are not the only players on the team who can benefit from Crist's confidence.
"When you have a great leader at the quarterback position, it helps not just your offense, but it helps your defense," wide receivers coach Rob Ianello said.
Put a different way by running backs coach Reggie Mitchell: "I think it does everything for a team. If you look at the teams that are successful in college, they all have a great quarterback, and they have a great quarterback that's a leader."
Although he still must show it when the lights come on and the games count, Crist has done most things right so far, including making himself one of the gang. That has been particularly helpful for the guys on the offensive line, with whom Crist made it a point to lock down a strong bond right away.
"That's everything," said O-Line coach Tim Grunhard, who played 11 seasons in the NFL. "The offensive line and the quarterback, their relationship is closer than any other relationship on the team."
So whether it's the guys he's throwing to, the hogs blocking for him or the players on the other side of the ball, the Jayhawks' success this season is tied directly to Crist. Because of that, the KU players and coaches are leaning on him like few KU players have been leaned on before.
"They are," Powlus said. "And it is critically important because he's the guy that's talking in the huddle, he's the guy that's leading the team, he's the guy that says, 'Follow me, let's go.' When you have someone in that position that you can rely on as a good-character kid, a hard-working kid, a mentally tough kid — all the intangible factors — it puts you in a good position because it sets a mind-set for your whole team."