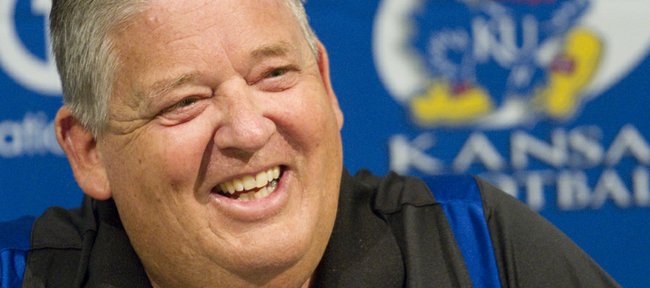 With the first football practice of the Charlie Weis era at Kansas University slated for today, we finally know where the newcomers stand on KU's depth chart.
Podcast episode
Kansas football coach Charlie Weis talks to reporters before the first day of fall camp on Aug. 1, 2012.
Wednesday, during his first news conference of fall camp, Weis released an update that featured 17 new names on the two-deep offensive and defensive depth chart.
Because so many of Weis' key guys are new, and because coaches cannot watch their student-athletes in the summer, Weis has yet to see nearly half of his top players in action. While that could be a problem for some, Weis is not worried.
"Well, I've seen the other guys play," he said. "I've seen what the other guys can do. They were there a whole spring."
So now it's time to see what the newcomers can do. Guys like tight end Mike Ragone, linebackers Anthony McDonald and Schyler Miles and wide receiver Josh Ford — along with more than a dozen others — will get every chance to prove they should play. In some cases, they already have. Wednesday's depth chart featured very few surprises, but listed fifth-year seniors Ragone, McDonald and Josh Williams as starters. It also included the word "or" 20 times, which indicated that there were more than a few position battles ahead.
Quickly, and rhetorically, Weis outlined his thinking with a few of those.
"Who's the back-up quarterback?" he asked. "The first receivers, all seniors, they've done a real nice job. Who can you count on at 4, 5, 6? Ragone's knee gonna hold up? What about those other tight ends? What's gonna happen at running back? So there's a lot of different questions on the offensive side of the ball, where as, on defense, we're trying to get to 22."
It all begins at 6 a.m. today, with a conditioning test. Weis said there would be a penalty for failing the test, but added that he didn't expect many would. The reason? According to Weis, strength and conditioning coach Scott Holsopple did a fantastic job with the team this summer. So good, in fact, that Holsopple made a scrapbook to chronicle it.
"In the book (were) three pictures of every player," Weis said. "A picture when we first got here, a picture at the end of the spring and a picture at the end of the summer. And then their numbers from when we first got here to where they are right now."
On more than one occasion, the man who coached in BCS bowls at Notre Dame and won Super Bowls with the New England Patriots found himself saying, 'Wow,' out loud.
"Just because they gained all of these numbers in strength and conditioning doesn't automatically mean you're gonna win more games," Weis said. "But to look at some of the body changes on some of these guys. ... I actually had to pull some of the pictures out to show the staff because they didn't believe me."
Physical transformation is just one of the steps in Weis' plan to turn KU into a winner again. And while the past several months have addressed the off-the-field elements of that plan, Weis made it clear Wednesday that he was ready for the next phase.
"We met early (Wednesday) morning because I had go over to Topeka to speak to the high school coaches," Weis recalled. "And I'm sitting in the staff meeting and I go, 'Just one more function, fellas. Let me just get through that one more thing.' We have so much work to do between now and Sept. 1, so I'm really looking forward to getting going. ... I'm more motivated than I've ever been."
Asked what his message to his team would be on the eve of their first fall practice together, Weis was succinct.
"I will not say very much," he said. "I'll tell 'em to be on time, do what they're supposed to do. I'll basically tell 'em it's time to quit talking. It's time to quit talking and let's go to work."
New faces in new places
The first preseason depth chart reflected position changes for a couple of returning players.
Sophomore tight end Trent Smiley, 6-4, 245, has been moved to fullback and currently is listed as the first-string option. Junior Keba Agostinho, who finished the 2011 season as a 253-pound defensive end, now weighs in as a 283-pound defensive tackle.
In addition to those two changes, the initial fall depth chart also featured new names in the kicking game. Freshman Austin Barone and sophomore transfer Nick Prolago are listed — behind junior Ron Doherty — as second-string place kickers while sophomore transfer Sean Huddleston is listed as the team's second-string punter (also behind Doherty) and freshman Paul Clark is listed behind junior Justin Carnes as KU's second-string long snapper.
Fan Appreciation Day
Saturday, Aug. 11 will provide KU fans the chance to get a sneak peek at this year's Jayhawks.
That's the day that Weis has dubbed "Fan Appreciation Day," which will feature a full practice open to the public from 8:45-10:45 a.m. and a 30-minute autograph session following the day's drills.
Springer promoted
Thanks to the departure of assistant strength coach Juney Barnett, who recently was hired by the Baltimore Ravens, former KU linebacker Justin Springer has been promoted into a full-time position with the KU football program.
Springer, who played at Kansas from 2007-10, now will serve as the Jayhawks' No. 3 strength coach.
"I tracked his career at KU; I like having more KU guys around," Weis said. "He was a heck of a player and a wonderful young man who the players really respect."
Weis also announced that Leon Beckum, who graduated from Indiana last May, had been hired to fill Springer's role as the strength program's graduate assistant.
Another Shula on the rise
In other staff news, Wednesday, Weis announced the hiring of Matt Shula, the grandson of NFL coaching legend Don Shula. Shula will serve as the Jayhawks' quality control rep for recruiting.
Shula recently graduated from Florida, where he ran the Gators' video department and got to work with Weis.
"I figured he had good bloodlines," Weis said. "So he'll be helping us in recruiting."
More like this story on KUsports.com