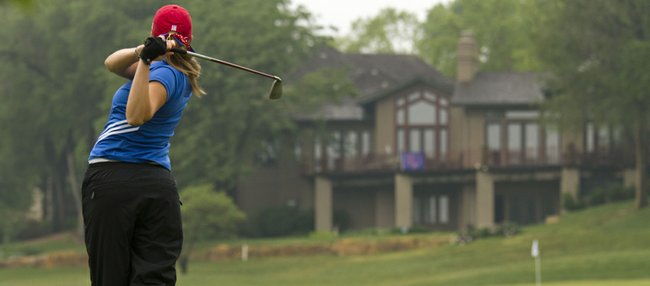 After sinking the four-foot putt on her final hole, Texas A&M;'s Mary Michael Maggio immediately looked at her coach.
"Is it close?" Maggio said.
"Yeah," Aggies coach Trelle McCombs said. "It's close."
Maggio knew the individual title at Sunday's Big 12 championships at Lawrence Country Club was within reach when her coach started following her the last six holes.
Now, McCombs was there to fill her in: Going into the final hole, Maggio was tied with Oklahoma's Chirapat Jao-Javanil for first place.
A few seconds later, something caught Maggio's eye. Two of her Texas A&M; teammates were standing on the hill and celebrating wildly while looking at their cell phones.
The Golfstat live scoring system had just updated the online scores, and Jao-Javanil had bogeyed her final hole.
"At that point," Maggio said, "it kind of hit me that it'd happened."
The junior had just won the Big 12 individual title, carding a 1-under 69 Sunday to finish with a three-day total of 219.
"All week, I felt like I did a really good job of staying patient," Maggio said. "That was the key."
Shortly after receiving official word of her victory, Maggio placed a call to her parents, Emily and Mike.
The two were shopping at a Wal-Mart in Conway, Ark., but that didn't stop them from screaming down the aisles to celebrate their daughter's championship.
Maggio secured the win by ending with six straight pars. That included a two-putt on her final hole — the par-4 sixth — when she just missed a 45-foot putt before knocking in a four-footer back up the hill.
The transfer from LSU posted three birdies and two bogeys in her round and was one of only two golfers in the three-day tournament to post a single-day score under par. Texas' Nicole Vandermade also shot a 1-under 69 on Saturday.
Oklahoma took the team title, posting a three-day score of 904 to beat second-place Texas by seven strokes. Baylor (912) was third, while Oklahoma State and Iowa State tied for fourth (913).
Kansas had its best team score Sunday, notching a 306, but it wasn't enough to move out of last place.
The Jayhawks' three-day total of 951 was two shots behind Missouri, which finished with a 949.
At one point Sunday, KU trailed MU by 13 strokes.
"Once we got relaxed, we were OK," KU coach Erin O'Neil said. "I think we really wanted to make everyone proud here, so they were pushing a little harder to play well."
KU's improvement late in rounds Sunday might have been helped by a rain delay.
During the stoppage, the Jayhawks gathered in the locker room and worked on a 1,000-piece puzzle.
"It just kept their minds busy with that and not thinking about how long the delay was or what was waiting for them out there," O'Neil said. "I think it worked well."
Katy Nugent — in her final collegiate meet — had her best day of the weekend, shooting a 5-over 75.
The senior's best hole was her first one — the par-3 17th — where she used a 5-iron off the tee to knock the ball within 10 feet before sinking the putt for a birdie.
"I didn't play my best yesterday, and I didn't play my best today, either," Nugent said, "but I just played a really solid round, got up and down a bunch and gave myself a lot of opportunities. I'm going out with a good feeling."
Junior Audrey Yowell posted a 4-over 74 to finish in a tie for 30th along with sophomore Thannutra Boonraksasat, whose 8-over 78 gave her an identical three-day score of 236.
Meghan Potee (79) and Gabby DiMarco (84) rounded out KU's Sunday scoring.
The Jayhawks will lose two players to graduation: Nugent and Maria Jackson.
"We have a good group coming back," O'Neil said. "We've got a lot of good experience from this, and I'm really excited about next year. I think we'll be back stronger and better."
Team scores — 1. Oklahoma 316-292-296 — 904; 2. Texas 325-298-288 — 911; 3. Baylor 313-302-297 — 912; T4. Oklahoma State 315-301-297 — 913; T4. Iowa State 311-302-300 — 913; 6. Texas A&M; 318-304-299 — 921; 7. Texas Tech 326-303-295 — 924; 8. Kansas State 323-309-300 — 932; 9. Missouri 322-316-311 — 949; 10. Kansas 338-307-306 — 951.
Top individual scores — 1. Mary Michael Maggio, TAMU, 77-73-69 — 219; T2. Hayley Davis, BU, 75-72-73 — 220; T2. Chirapat Jao-Javanil, OU, 75-70-75 — 220; 4. Anne Tanguay, OU, 76-72-74 — 222; 5. Jayde Panos, OSU, 80-70-73 — 223; 6. Nicole Vandermade, UT, 81-69-74 — 224; 7. Chelsey Cothran, BU, 78-72-75 — 225; T8. Punpaka Phuntumabamrung, ISU, 78-75-73 — 226; T8. Katerina Ruzickova, TAMU, 76-78-72 — 226; T8. Kelsey Vines, OSU, 76-78-72 — 226; T8. Bertine Strauss, UT, 77-78-71 — 226.
KU individual scores — T30. Thanuttra Boonraksasat, 83-75-78 — 236; T30. Audrey Yowell, 78-84-74 — 236; T39. Katy Nugent, 88-79-75 — 242; 42. Meghan Potee, 91-73-79 — 243; 50. Gabby DiMarco, 89-80-84 — 253.
More like this story on KUsports.com