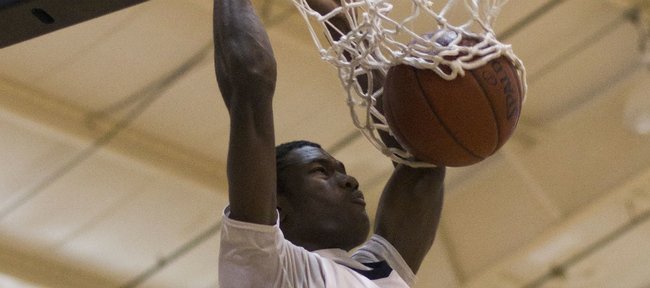 College basketball recruiting roundup ...
Lawrence basketball standout Khadre Lane has confirmed in a direct Facebook message to the Journal-World that he has transferred from Seabury Academy to Free State High.
Lane, a 6-foot-4 junior-to-be who averaged 18.3 points and 6.0 rebounds last season at Seabury, plays for KC Run GMC, formerly known as KC Pump N Run AAU. Still early in the recruiting process, Lane most recently has heard from Nebraska. He's projected to be a mid-major to major-college recruit, with his next school year to be crucial in terms of his development.
"Lane is an extremely athletic player who hasn't quite honed in his skills just yet, and with so much length on the opposing team, Lane struggled to get clean looks at the basket," Rivals.com's John Holihan wrote from last weekend's Jayhawk Invitational in Gardner. "The Lawrence native can flat-out jump out of the gym and is beginning to become a much more household name with colleges across the country."
Future Kansas University small forward Brannen Greene, a 6-7, 200-pound senior-to-be from Mary Persons High, in Forsyth, Ga., played well for the Florida Rams last weekend in the Bob Gibbons Tournament of Champions AAU event in Suwanee, Ga.
"Greene proved why he's the top-ranked player in Georgia and why he had so many powerhouse basketball programs fighting over him before committing to Kansas," Rivals.com's Dan McDonald wrote over the weekend. "He possesses one of the purest strokes in the country and has really worked on rounding out the rest of his game since this time last year."
Noted Eric Bossi of Rivals.com: "Greene is a physical wing with deep range."
Greene, who is ranked No. 31 in the Class of 2013 by Rivals.com, is an AAU teammate of Chris Walker, a 6-9, 220-pound senior-to-be from Holmes County High in Bonifay, Fla.
The No. 6 prospect in the class of 2013 has a list of KU, Florida, Kentucky, Ohio State, Baylor, Louisville and others.
"It doesn't take long to see why Walker had Bill Self and Billy Donovan watching him this weekend," wrote McDonald. "He's a legit 6-10, very athletic, and very good around the rim. Whenever he gets the ball within a few feet of the basket, he's most likely going to score and more than likely it's a powerful two-handed slam."
KU's Self, who had a busy weekend, also attended the Nike EYBL event in Hampton, Va. He watched some games of Boo Williams teammates Allerik Freeman and Anthony "Cat" Barber, who are ranked Nos. 25 and 13 respectively in the Class of 2013.
Freeman, a 6-4, 210-pound senior-to-be shooting guard from Olympic High in Charlotte, N.C., likes KU, Duke, UCLA, Ohio State and Villanova. Freeman has been compared to NBA standout Deron Williams, who played for Self at Illinois.
Barber, 6-2, 165 senior-to-be point guard from Hampton (Va.) High, lists KU, Kentucky, North Carolina, North Carolina State, Providence, Virginia, Virginia Tech and others.
Julius Randle, 6-8, 235-pound senior-to-be small forward from Prestonwood Christian Academy in Plano, Texas, competed at the EYBL Hampton tourney for the Texas Titans. The No. 3 player in the Class of 2013, who was a high school teammate of incoming KU power forward Zach Peters, has mentioned KU, Baylor, Duke, Kentucky, Missouri, North Carolina, N.C. State, Ohio State, Oklahoma, TCU and Texas.
He told Tar Heel Illustrated he may wait until next spring to decide.
"You see coaches come and go all the time, you don't know what players are going to be there. You want to make sure the place you're going to fits your style and its the best place for you. You want to have a trustworthy relationship with your coach," Randle said.
The No. 1-rated player in the Class of 2013, Jabari Parker, played for Mac Irvin Fire last weekend at the EYBL tourney. The 6-7, 215-pounder out of Chicago's Simeon High has a list of KU, Kentucky, Duke, Michigan State, Illinois, DePaul, North Carolina and Northwestern.
Also competing at Hampton EYBL was James Young, a 6-5, 200-pound senior-to-be from Troy (Mich.) High, who plays for Detroit's The Family. The country's No 9 prospect says Kentucky is his favorite with KU, Providence, Ohio State, Michigan State, Michigan and Missouri on his list.
Rivals.com says KU has offered a scholarship to senior-to-be Tyler Roberson, a 6-7, 190-pound small forward from Roselle Catholic in Roselle, N.J. The country's No. 34-rated player has listed KU, Syracuse, Connecticut, Louisville, N.C. State, and others. Also, KU has reportedly offered Chris McCullough, a 6-8, 200-pound junior-to-be from Salisbury (Conn.) School. The country's No. 10-rated player in 2014 also likes UConn, St. John's, Syracuse, Memphis, Arizona and many others.
More like this story on KUsports.com