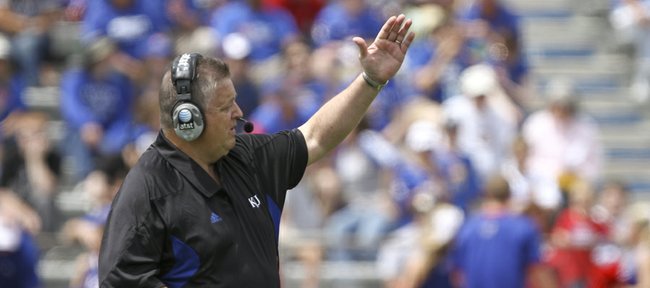 Saturday's 45-0 romp by the first-string Blue team in Kansas University's annual spring game marked the final activity of one of the most intense and trying springs at KU in recent memory.
From the time the team returned to Lawrence from winter break in mid-January until the time the scoreboard clock showed 00:00 on Saturday, the Jayhawks were put through a grueling few months of back-breaking workouts, mind-molding mental challenges and the early stages of a seismic shift designed to eliminate the team's ability to accept losing.
First-year coach Charlie Weis promised on the day he was introduced as KU's next coach that the spring "was not going to be very pleasant" for his new team, and in many ways it wasn't. But Saturday, with the sun shining and more than 15,000 fans filling Memorial Stadium's seats, it all seemed worth it.
"I would like to call it just hard work and discipline," said sophomore running back Tony Pierson, the game's offensive MVP. "I wouldn't call it miserable, though. I made it out."
Beyond the fact that Weis engineered a way to get so many people to show up for a scrimmage — likely many of whom just six months ago had all but given up on the program — there were plenty of highlights Saturday. Reverses went for touchdowns, flea-flickers were both called and executed, and players, young and old, who have been dubbed "play-makers" for the past couple of years, actually made plays again.
"I think we've taken a bunch of steps," Weis said after the game. "But I think we have a bunch of steps to go. Too many times, coaches give you some kind of phrase to sugar-coat it. But for us to be competitive on a weekly basis, we have a lot of work to do."
For at least the next couple of months, a lot of that work will be spent on recruiting the Class of 2013 so Weis' future spring games at Kansas will include defensive linemen who play for one team, not both. The players still will work out on their own and will continue to get to know strength coach Scott Holsopple in ways they probably wish they wouldn't.
"There are several different ways that you can run an organization," Weis said. "I just think that they are starting to figure me out more. I'm easier to read now. They are not used to people coming in and just saying it to (them). They are used to coaches playing mind games, where you have to try to figure out what the coach is thinking. That's not what I do."
People have taken notice.
"I think he's just been incredibly consistent in his message," quarterback Dayne Crist said. "He's always honest, always telling the truth, whether that's what you want to hear or not. It's just common sense. It's using good judgment. Everyone has a conscience, and, doing the right thing, he's huge on that."
Weis' plan stretches to all corners of their responsibilities as student-athletes, and, whenever possible, he makes sure to point that out.
So while many left Saturday's game talking about Pierson's 141 yards, Crist's arm or the fact that the Jayhawks — with their names on their jerseys again — looked like a football team again, Weis' focus shifted to finishing strong so he could have all of his weapons this fall.
"Right now, I'm more concerned with them finishing the semester and taking their exams," he said.

Still, football never is far from his thoughts, and, even though he knows there's still work to do, Weis seems to be looking forward to August.
"Offensively, we're ahead of our defense," he said at the risk of stating the obvious. "But I truly believe that we're going to be much improved on defense.
"Not only philosophically do I believe in what they're doing, but I do believe that with some of the guys coming in, interjected with the people here, we'll be much improved."
More like this story on KUsports.com