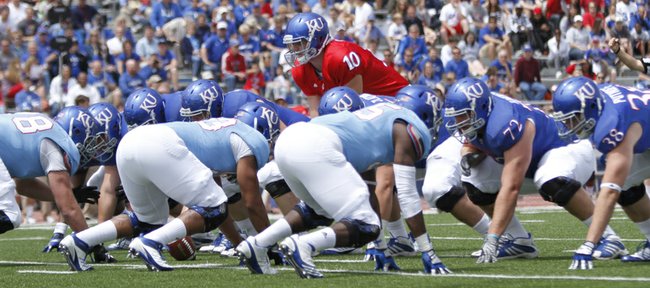 With about a dozen friends and family members enjoying the weather and tossing the football around him, Kansas University quarterback Dayne Crist wolfed down a plate of tailgate food about an hour after Saturday's spring game at Memorial Stadium.
He earned it.
Playing his first live performance as a Jayhawk, in front of a crowd of 15,000 enthused KU football fans, the Notre Dame transfer completed 11 of 19 passes for 156 yards and led the Blue team to a 45-0 victory over the White squad in the final event of KU coach Charlie Weis' first spring in Lawrence.
More important than the final score or the statistics was the fact that Crist showed everyone in attendance that the Jayhawks were running a different, more efficient offense in 2012. No play better illustrated that than sophomore running back Tony Pierson's 88-yard touchdown run late in the third quarter.
As Crist walked to the line of scrimmage, he surveyed the defense and identified the middle linebacker, a staple of Weis' offense. Not seeing the set he wanted, Crist called an audible and Pierson did the rest.
"I told him, 'When the hole's that big, he better be able to score a touchdown,'" Weis said. "I also told him that there aren't many guys who can run 88 yards. It's pretty obvious, when he's in space, it's a problem."
That's where Crist's understanding of the offense can benefit Kansas most. Had a less experienced quarterback been in there, Pierson's big run might have been a three-yard gain. Instead, it was the top highlight from an afternoon full of them.
"If I'm not mistaken, it was supposed to go to the left side, and he changed it back to the right side," said Pierson, the game's offensive MVP, who finished with 141 yards on seven carries. "Dayne usually changes up the play two times out of five. He can read the defense and once he sees what the defense is in, he'll change the play. He's very good at that."
He's also very good at a lot of other things, and nearly all of them were on display Saturday. From making deep throws and flashing pinpoint accuracy, to subtle movements in the pocket and understanding how to use his running game, Crist's command allowed KU's blue squad — made up mostly of first-string players — to roll up 518 yards of offense, six touchdowns and one field goal in a game that was played with a running clock.
"Well, he could make every throw, and he didn't look too rusty to me," Weis said. "I thought he slung it around pretty good. I was pleased. He knows the offense, he knows how to run the operation, he can get us out of trouble in a bad call."
Crist completed four straight passes for first downs to open the game, but a couple of drops caused the Blue team's initial drive to stall. Ron Doherty, who also made all six extra points he attempted, knocked a 30-yard field goal through the uprights to get the scoring started. With the Blue defense forcing the White into three-and-outs for most of the afternoon, Crist and fellow former-five star QB, Jake Heaps, had plenty of opportunities to lead the Blue team. And Weis had plenty of chances to dial up crowd-pleasing plays.
"I could have created some situations to have the game closer," Weis said. "I didn't have to call reverses and I didn't have to call flea-flickers, but the fans want to have some fun, too. Jake Heaps' first throw here is a flea-flicker. I didn't have to call those things, but part of the spring game is to have fun, too, and I think maybe the Blue team had a little bit more fun than the White team. A lot of guys had the opportunity to make plays that either did or didn't, and it will show up very clearly when we watch the tape."
Senior receiver D.J. Beshears (3 catches, 33 yards) scored two touchdowns, one of them on a 28-yard rumble on a reverse, sophomore running back Marquis Jackson (10 carries, 76 yards) scored three times on runs of seven, three and 15 yards, and seniors Daymond Patterson (5 catches for 64 yards) and Kale Pick (4-82) led the KU receivers. Pick was the recipient of the flea-flicker from Heaps, who finished 7-of-10 passing for 106 yards and one touchdown.
"The defense probably thought I was gonna run through the hole," Pierson said of the flea-flicker. "But I gave it back to Jake and he threw the deep ball. He came back to the sideline talking noise. It was fun."
Fun was the prevailing theme of the day, both for the fans who showed up early to tailgate and stayed late for autographs, and the Jayhawks themselves.
"The numbers weren't as important as the engagement," Weis said, tipping his cap to the largest spring game turnout in quite some time. "I thought the crowd was engaged. They weren't just there for a sunny day. They were into the game. We will work on those bigger numbers as we get close to September, but they were engaged and I think that's a good thing."