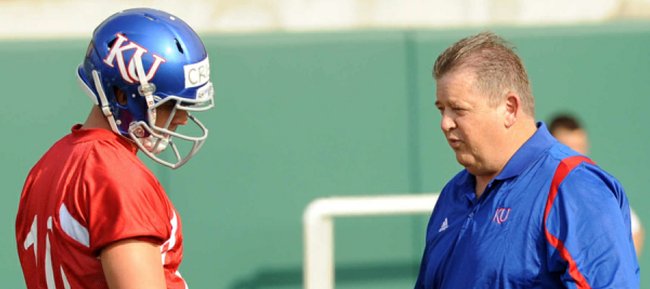 Whether it's played in front of a record crowd or not, it sure sounds like today's Kansas University spring football game — 1 p.m. kickoff at Memorial Stadium — is going to be a bit different than previous editions.
"We will actually play a game," first-year KU coach Charlie Weis said. "We won't show everything, obviously, and use every personnel group due to the lack of numbers, but we will come out, run it and throw it. … I would not call it a glorified scrimmage because it is going to be more competitive than that."
Part of that is because of the mentality that Weis and his coaching staff have brought to town. For 14 practices over the past four weeks, the Jayhawks have been put through a tryout of sorts. Whether it was a fifth-year senior who had logged all kinds of playing time in the past or a red-shirt freshman who had yet to play during a live game, each player was treated equally by KU's new coaching staff, and each was given a shot to prove himself to the new regime. Just because today's spring game marks the end of spring drills and will be played out in front of fans in Memorial Stadium does not mean anything changes.
The players seem to realize that.
"It's a new staff here, and guys are still out here showing their best," senior captain Toben Opurum said. "Even if they're comfortable with where they are, they want to make sure they're showing their best all the time. (Weis) wants to make it as game-like as possible. The earlier we can see what the presence is gonna be, the better it'll be for us. It'll definitely have a different feel to it than the last few spring games."
That's not just because of the new mind-set. Weis also will reveal plenty of elements of the 2012 squad that people seem to be dying to see. At the top of that list is Notre Dame transfer Dayne Crist, a senior quarterback who is expected to start this fall.
Asked what he's hoping for from today's game, the fifth-year senior QB offered a glimpse into why Weis seems to be so connected to him.
"Guys stay healthy," Crist said. "That's the last thing you want to do is lose a guy in the spring game. It's great to get out there and have fans around, but at the end of the day you want to have guys get out of the game healthy."
Of course, there is more to it than that, and Crist acknowledged as much. Asked what he hoped for from himself and Weis' offense, Crist coughed up a little more coach-speak.
"Just be efficient," he said. "I know that's kind of vague, but that's kind of the goal you have every time you step out as a quarterback. Just being as efficient as possible in your throws and making the right checks and just putting the team in the best situation at all times."
Opurum said the coaches tried to split up the blue squad and the white squad as evenly as possible. The Jayhawks were told which team they would be on at the end of Thursday's practice, but the rosters won't be made public until kickoff. One guess that seems safe is that Crist and BYU-transfer Jake Heaps, who will have to sit out the 2012 season, will be on opposite teams. And while the two ultra-competitive, former five-star QBs no doubt will try to outdo each other throughout the day, Crist said he and Heaps had not made any wagers as extra incentive.
"Nah. That'd be an NCAA violation," Crist said with a laugh.
As for what he expects from Heaps, that was no laughing matter.
"I know it's exciting for him," Crist said of Heaps. "He's worked so hard this spring, and it's nice for him to have this outlet and to just be able to go out and do it live for the last time in probably a long time. It'll be great for him, but we're excited for everybody and just want to put a nice close on spring practice."
Added offensive lineman Tanner Hawkinson: "We just want to show 'em that we've made progress throughout the spring and putting our best day together as a unit. We want to show not only the fans but also ourselves that we've grasped the offense."
More like this story on KUsports.com