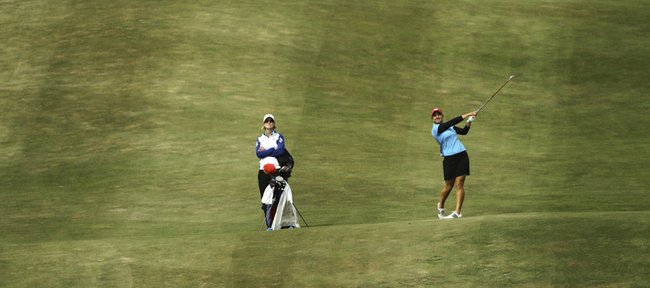 As much as the Kansas women's golfers had practiced at Lawrence Country Club, they still weren't fully prepared for the weather they saw Friday.
"We wanted wind," KU golf coach Erin O'Neil said, "but I'm not sure we wanted this much wind."
The blustery conditions — along with the pressure that comes with being the host school — led to a disappointing opening day for KU during the first round of the three-day Big 12 championships.
The Jayhawks finished with a team score of 338, which is last place out of the 10 league schools and 12 shots behind ninth-place Texas Tech.
"You could just tell they weren't comfortable," O'Neil said of her golfers. "It showed up. When it's windy like this, it's just going to accentuate any mis-hit shot and make it worse."
The highlight for KU was the play of junior Audrey Yowell, who entered as the Jayhawks' fourth-best golfer according to scoring average.
The McPherson native shot an 8-over 78, which put her in a tie for 10th.
"I just tried to not hit amazing shots and made sure I gave myself enough room in case the wind picked up," Yowell said. "Just choose the best place to err ... that's what I did. It worked out well."
Yowell stayed consistent and limited damage, posting only one score over bogey all day.
She also finished her round with momentum, birdieing her final hole: the par-4 ninth.
After getting on the green in two, Yowell faced a 30-foot putt.
"I wasn't really trying to make it. I was just trying to speed it down there so I could for sure get a par," Yowell said. "And it went in, so that was a plus."
Yowell also ended her front nine with a birdie, posting a 2-over 37 through nine holes.
"Audrey did a phenomenal job, and her head was in a good place from the get-go," O'Neil said. "She embraced the wind and the challenge and rolled with it. It paid off."
Thanuttra Boonraksasat finished with a 13-over 83 to put herself in a tie for 30th place.
The sophomore sat at 3-over after her first nine holes before struggling down the stretch.
"My goal today was to not have three-putts and not have (double bogeys), and I had four of them on the back nine," Boonraksasat said, "so I'm kind of mad."
Katy Nugent (88, T-46th place), Gaby DiMarco (89, T-48th) and Meghan Potee (91, 50th) were the other Jayhawks who competed Friday.
Iowa State (311) sits in first after Day One, followed by Baylor (313) and Oklahoma State (315).
Three golfers share the lead. Baylor's Hayley Davis, Iowa State's Sasikarn On-Iam and Oklahoma's Chirapat Jao-Javanil each carded a 5-over 75.
The weather conditions should be less hazardous today, with forecasts calling for calmer winds with highs in the mid-70s.
KU's golfers will tee off with Texas Tech beginning at 8 this morning.
"We just hope to recover a little bit, get some confidence back," O'Neil said.
Big 12 Championships
Team scores — 1. Iowa State 311; 2. Baylor 313; 3. Oklahoma State 315; 4. Oklahoma 316; 5. Texas A&M; 318; 6. Missouri 322; 7. Kansas State 323; 8. Texas 325; 9. Texas Tech 326; 10. Kansas 338.
Top individual scores — T1. Hayley Davis, BU, 75; T1. Sasikarn On-Iam, ISU, 75; T1. Chirapat Jao-Javanil, OU, 75; T4. Amy Ruengmateekhun, OSU, 76; T4. Kelsey Vines, OSU, 76; T4. Katerina Ruzickova, TAMU, 76; Anne Tanguay, OU, 76; T8. Mary Michael Maggio, TAMU, 77; T8. Bertine Strauss, UT, 77; T10. Stani Schiavone, BU, 78; T10. Chelsey Cothran, BU, 78; Punpaka Phuntumabamrung, ISU, 78; T10. Audrey Yowell, KU, 78; T10. Prima Thammaraks, ISU, 78.
KU individual scores — T10. Audrey Yowell, 78; T30. Thanuttra Boonraksasat, 83; T46. Katy Nugent, 88; T48. Gabby DiMarco, 89; 50. Meghan Potee, 91.
More like this story on KUsports.com