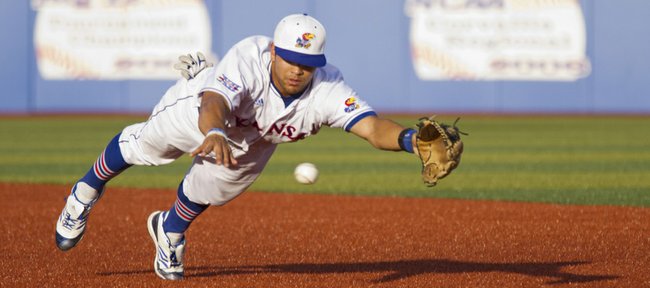 Well, that was a first.
In more than 40 years of baseball, Kansas University coach Ritch Price had never seen a game like his team's dramatic 8-7 victory against Kansas State (19-23) on Wednesday night at Hoglund Ballpark.
Sophomore outfielder Tucker Tharp (4-for-6) led off with a solo home run in the bottom of the first and senior third baseman Zac Elgie (2-for-4) ended it with a solo bomb on the first pitch of the bottom of the 11th.
Plenty happened in between, including the Jayhawks' blowing leads of 6-1, 7-2 and, in the ninth, 7-4, but all anybody wanted to talk about after the 3 hour and 39 minute marathon ended was Elgie's game-winner.
"It's crazy," said Elgie, who in the top of the 11th told shortstop Kevin Kuntz that if he saw a fastball on the first pitch during his upcoming at-bat he was going to unleash a leg kick and try to end the game. "That's what you want to do, hit walk-off home runs. And it couldn't have happened against a better team on a better night."
His teammates agreed, and even though this one did not count in the Big 12 standings — the conference series will take place in May in Manhattan — the Jayhawks (17-25) sure celebrated like it did. As soon as Elgie made contact, his teammates in the dugout rushed home plate. When the ball landed, 415 feet from where it was hit, Elgie was mobbed by his teammates as he scored the winning run. A few minutes later, a celebration ensued down in right field after a brief chat with Price. And, finally, when Elgie came out to talk to the media about his big blast, he did so with shaving cream covering his head.
"Any time you beat another Big 12 team, it's a great feeling," said junior Jake Marasco, who collected two hits. "The fact that it was K-State makes it even better."
More like this story on KUsports.com