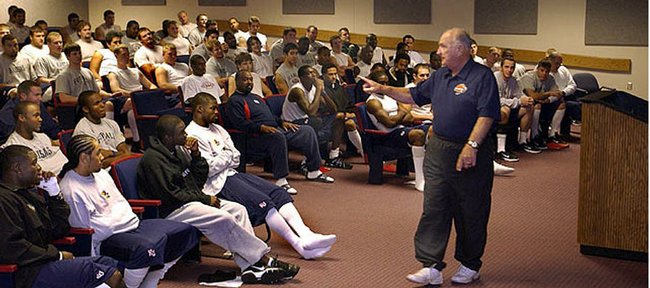 The City of Lawrence and Kansas University will rename stretches of two streets after former KU football coach and player Don Fambrough at a ceremony before the spring football game Saturday.
The ceremony, which will include KU officials, Lawrence city commissioner Hugh Carter and Fambrough's son Preston, will begin at 11:15 a.m. at the current intersection of 11th and Maine Streets.
"Don Fambrough was an icon — not just on the KU campus, but across the state of Kansas," KU athletic director Sheahon Zenger said. "He wore his passion for KU on his sleeve, and every day he proudly demonstrated his love for Kansas football and Kansas athletics. He loved his players, and they played their hearts out for him."
In January, the Lawrence City Commission voted to rename a stretch of 11th Street "Fambrough Drive" — the section of the road between Mississippi Street and Missouri Street. KU also will rename the stretch of Maine Street behind the Memorial Stadium press box "Fambrough Way."
Fambrough passed away in September at the age of 88. He led KU football for eight seasons in two different stints.