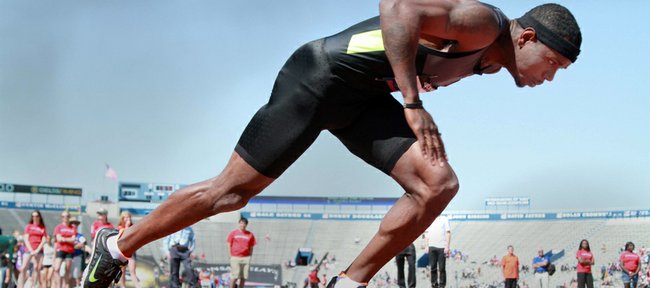 The song "Crank Dat Batman" blared over the Memorial Stadium sound system to the delight of 14,500 fans and at least one 400-meter hurdler Saturday at the Kansas Relays.
"That music definitely fired me up. It showed that the people have got a high-respect level," Bershawn "Batman" Jackson said after winning his seventh Relays 400 hurdles title in a meet-record 48.2 seconds.
The 2008 Olympic bronze medalist out of Miami easily defeated Nike teammate Justin Gaymon and unattached Danny McFarlane, who finished in 49.53 and 50.39 respectively.
"It's the best I've run in my whole career this early," added the 5-foot-8, 158-pound Jackson. He bettered his old Relays record of 48.32, set in 2008.
"It's a bit scary. You train hard ... good things will happen."
Jackson, who turns 29 on May 8, believes this is the year he attains Olympic gold.
It'd be a natural progression after making his first Olympic team in 2008.
"The sky is the limit," said Jackson, whose time was best in the world this outdoor season. "I think it's possible. It's been my dream since I was a kid. Keep working hard, set a goal for myself, try to achieve it."
His effort on Saturday earned him Kansas Relays most outstanding male athlete honors. Shawnee Mission West's Alli Cash, who set a meet record in the 1,600 and won the 800, was outstanding female athlete.
"My career started here," said Jackson, who waved to the fans and pumped his left fist as he returned to the backstretch at the conclusion of his race. "When I was 19, it was the first meet I came to. I got treated with respect. My career started when I won this meet. People didn't know who Bershawn Jackson was. This kick-started my career. You never forget where you come from. The crowd is always phenomenal. They welcome me with open arms and I love coming here."
Might Batman be considered one of the top performers in Kansas Relays history?
"I don't want to go that far, but when my career is said and done, we'll measure that then," he said.
Manson still going strong: Former KU pole vaulter Pat Manson, 44, who won gold at the Pan American Games in 1991, '95 and '99, and placed sixth at the 1997 World Championships, tied former KU vaulter Jordan Scott for third place in 17 feet, 3 1/2 inches. Nike's Scott Roth won in 17-9 1/4.
"I stood on the pit that last time, looked around and thought this might be the last time I stand on an elite pole vault pit," said Manson, who teaches at his own pole vault camp in Boulder, Colo., and trains with his pupils.
"I felt great today. Scott Huffman (former KU Olympian) was here coaching me. Cedric Fullard was here, another 18-footer in KU history. It's so great to be back at the Kansas Relays."
Manson in 2007 became the first vaulter to clear 18 feet for 22 consecutive years. His personal best mark is 19-2 1/4.
"I'm trying to jump as high as I can jump," Manson said. "I'd like to have made that 18-foot jump today. That would have been fun. That's a goal for me, to get over 18 one more time (at local meets in the West)."
Trotter a standout sprinter: Olympic gold medalist DeeDee Trotter won the invitational 400 in a Relays record 50.94. KU sophomore Diamond Dixon, the 2012 NCAA Indoor champion, was second in 51.8. Previous Relays record holder Mary Wineberg was third in 52.1.
"What a fantastic crowd. I've never been here before. The facility is phenomenal, and I'm glad I was able to come here. The weather was great," exclaimed Trotter, 29, out of the University of Tennessee. Her time was best in the U.S. this year.
Trotter is the founder of "Test Me I'm Clean," a non-profit organization dedicated to combating the abuse of steroids and other performance-enhancing drugs.
"I think she is awesome," KU's Dixon said of Trotter. "I'm looking forward to racing her again."
Dixon — her time was tops in the NCAA so far this season — chatted briefly with Trotter after the race.
"She said I was fantastic and keep running," Dixon said. "She was impressed with my training and everything."
Of Houston native Dixon, Trotter said: "She is a phenomenal athlete. She reminds me a lot of myself when I was her age. More power to her. Keep running well. She can be one of the best."
What's up Doc?: Olympian Doc Patton of Nike won the 100 in 10.29. He bested Travis Padgett and Ivory Williams, who crossed in 10.31 and 10.42.
"I accomplished two things I wanted to do: stay healthy and get a win," said the 34-year-old Patton, a good buddy of Williams.
"He beat me (at KU) two years in a row," Patton said. "We were down there joking around, having fun (before race). I told him I was mad. He has a new Nike body suit and I haven't gotten mine yet. I said if I win I get to have his. We're probably going to trade body suits."
Strong finish to meet: KU's men's and women's track teams won the meet-ending 1,600 meter relays. The women's team of Denesha Morris, Paris Daniels, Shayla Wilson and Diamond Dixon ran both a KU- and Relays-record 3:31.87; the men's team of Michael Stigler, Mike Hester, Kenneth McCuin and Kyle Clemons was timed in 3:08.67.
Three in a row: KU senior Don Wasinger won the 1,500 in 3:47.76. It marked his third Relays victory.
"I knew what my time was going into the last lap, so I was just trying to stay under 60," the Winona, Minn., native said. "I did hear a lot of cheering, which was great. It definitely helps out.
"It's been a solid run. Its been great being at KU. I've always looked forward to the Relays and always loved the Relays. I was happy to compete this year, and hopefully I can come back and run unattached for a few more years."
More KU winners: 200: Alisha Keys, 24.36; discus: Jessica Maroszek, 174-1; 400 relay: Paris Daniels, Francine Simpson, Denesha Morris, Diamond Dixon, 44.32 (KU record); 1,500: long jump: Andrea Geubelle, 21-4 (personal best); 400: Taylor Washington, 54.37. Rebeka Stowe was second in the 1,500 (career best 4:22.50).
Another record: KU Athletics set a record of its own by serving the world's biggest-ever plate of nachos, as certified by the Guinness Book of World Records.
The plate of nachos was over 80 feet long, two feet wide and 10 inches deep, weighing in at a world-record 4,689 pounds.
More like this story on KUsports.com