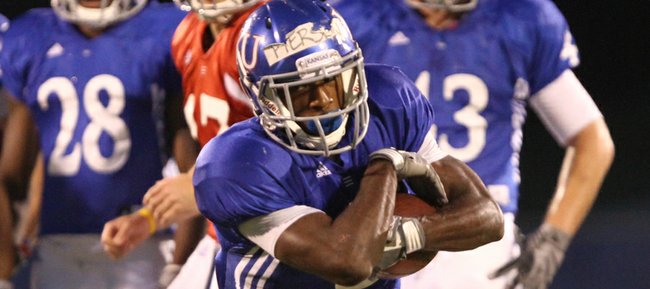 Kansas receiver Daymond Patterson had always been the kind of guy who was unafraid to challenge his teammates.
That all changed last year when Tony Pierson arrived on campus.
"I wanted to race anybody," Patterson said, "but now, I don't want to race Tony any more."
The 5-foot-10 running back Pierson has continued to stand out to teammates this spring because of his trademark speed.
"I take pride in it, because I don't have very much weight on me," Pierson said, "so that's basically my best skill."
Patterson wouldn't argue.
The senior is used to being the fastest guy around. In high school, he was only routinely beaten in races by one teammate — and that was Lanear Sampson, who is now a receiver at Baylor and has been clocked at a 4.3 in the 40-yard dash.
So would Patterson say that Pierson is the fastest player on the team?
"By far," Patterson said, "if not in the league."
Pierson believes he can top his freshman campaign, when he played in 11 games and averaged 5.6 yards on 71 carries.
During the back's first individual meeting with Charlie Weis, the new KU coach talked about all the ways he hoped to get Pierson out in space so he could showcase his quickness.
The challenge for the sophomore is now to become more durable. Though he's only at 165 pounds, his goal is to get into the 175- to 180-pound range.
He's on a protein diet and also does extra lifting, but when asked if it had helped so far, Pierson looked down at both his arms and laughed.
"Not really," he said with a smile. "Still getting there, though."
Weis has already started thinking about how to best utilize his home-run back.
"Tony has to touch the ball, but how many times he touches the ball is going to be important," Weis said. "If you're talking about a 12-game regular season — and you always aspire to have a 13th game — then you have to figure how many times he can touch the ball at his size and be able to be at a high level the next week. Now you're at a Catch-22.
"On the one hand, every time he touches the ball he has a chance of scoring a touchdown, but on the other hand, if you give the ball to him too much, then you could get him beat up, and then he's not productive the next week."
Last year, Pierson said he learned the basics of reading defenses. It's a skill he didn't need in high school, when he was told to just take the football and run.
He also feels more comfortable with learning a college playbook.
KU running backs James Sims and Rell Lewis helped Pierson last season with the new sets and also with freshman anxiety.
"During my first game, I came out kind of nervous," Pierson said. "They just told me to play with confidence. Use my skill level. Play hard and play fast."
Pierson is showing more confidence in other ways as well.
Because of his shy nature, Pierson requested that he not be made available for media interviews last year.
In his first meeting with reporters at the beginning of April, Pierson, decked out in a blue polo shirt, calmly answered questions for about 15 minutes.
"We always joke around and mess around with him, but he's just cool, laid-back," Patterson said.
Fans also will notice a change in Pierson's number. After wearing No. 23 his freshman year, he has switched to No. 3 — the same number previously worn by recent KU standouts Charles Gordon and Aqib Talib.
Ever since he arrived at KU, Pierson said he wanted to have a number in the single digits.
"I hear it all the time: Kansas is known for No. 3," Pierson said. "I've got to show up with it."
Patterson believes that Pierson will do just fine if he performs as well in games as he does in 50-meter races.
"I'll take (on) anybody else but Tony," Patterson said, smiling. "He hurt my feelings a couple of times out there."