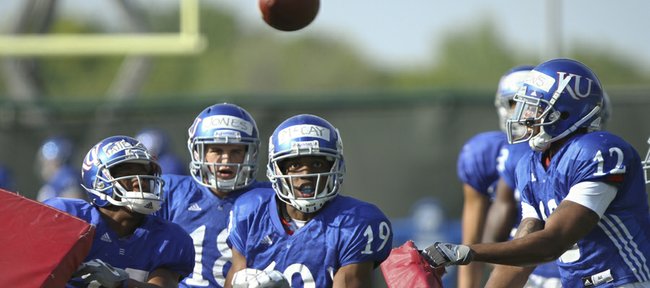 The NCAA on Friday denied the hardship waiver requested by Kansas University wide receiver Justin McCay, leaving the sophomore from Bishop Miege High ineligible to play during the upcoming season.
The news came after a highly-publicized couple of days of waiting. Last week, KU coach Charlie Weis announced that the NCAA would review McCay's case on Wednesday of this week and that a ruling would be handed out Wednesday or Thursday. At Thursday morning's practice, Weis reiterated that he expected the news, good or bad, on Thursday, but Thursday came and went without a word.
According to a KU press release, the university plans to appeal the ruling at the recommendation of the NCAA.
"We are disappointed in the NCAA staff's decision," KU coach Charlie Weis said. "But we will take its advice and will appeal to the Subcommittee. We certainly hope that the members of the Subcommittee, who work day-to-day on campuses and in conference offices, will see Justin's situation for what it is and make a decision that is in his best interest.
Weis continued: "I've spoken to Justin and he understands the initial ruling by the NCAA and is encouraged that they recommended that we appeal his case to the Subcommittee. He will make a statement after the ruling by the Subcommittee."
KU will make its appeal to the Subcommittee for Legislative Relief, which is comprised of representatives from conferences and universities from around the country, by next Tuesday. The Subcommittee, which is the only group with the authority to deviate from the waiver guidelines that the NCAA is required to follow when approving waiver requests, will make its decision by 5 p.m., the following Tuesday, May 1.
McCay, a 6-foot-3, 215-pound former five-star prospect who participated in the U.S. Army All-American game as a senior at Bishop Miege, signed with Oklahoma out of high school and red-shirted during the 2010 season. He played only sparingly last season and chose to transfer to KU at the start of the spring semester because of a desire to be closer to his family and his hometown. He is seeking to have three years to play out three seasons of eligibility instead of having to sit out the 2012 season and having two years to play two.
McCay was listed as a second string player, behind senior Kale Pick, on the depth chart that was released at the start of spring drills.