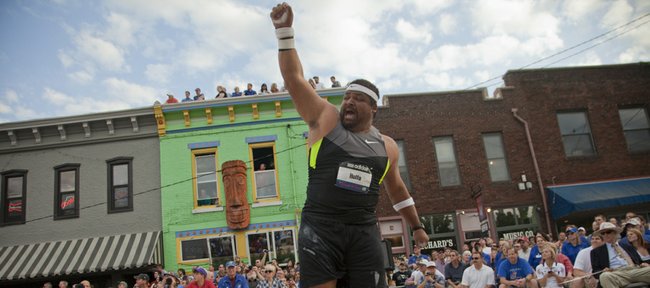 Two-time Olympian Reese Hoffa figured that, with just one of six throws remaining, he was destined to finish runner-up in the 2012 Kansas Relays downtown shot put competition — same as a year ago.
"I thought I was going to get second. On that last one, I went out there and tried to hit the ball as hard as I possibly could and hope I stay in (the ring)," said Hoffa, a 5-foot-11, 315-pounder out of the University of Georgia.
Spurred by a loud crowd of 3,500 spectators, the 34-year-old Hoffa unleashed a final throw of 71 feet, 33⁄4 inches, passing former Olympic silver medalist Christian Cantwell, who had marks of 71-23⁄4 and 71-21⁄4 — second- and third-best in the world this year.
"I went faster and hit the ball harder," said Hoffa, whose world-leading heave rivaled his personal-best toss of 73-7.
His final attempted landed just inside the left foul line.
"That's my land over there. That's the land of Hoffa," he said of the left side of the landing area.
Hoffa received not only a bowl as a trophy, but a necktie presented to him by meet official Larry Almond, an Iowa native who started the tradition of adorning the winning shot putter with a tie at the 100th Drake Relays.
"It's a great tradition that we get the tie. We keep waiting to see what kind of tie they have for us,"said Hoffa, who wore the tie while posing for pictures and signing autographs for fans.
The women's downtown long jump competition will be contested at 6 p.m. today, on Eighth Street between Massachusetts and Vermont streets. Athletes to compete include two of the world's top long jumpers, Janay DeLoach and Funmi Jimoh.
In other events Wednesday, Nebraska's Bjorn Barrefors leads the decathlon with 3,836 points after five events. Liz Roehrig, who is unattached, leads the heptathlon with 3,511 points after four events. KU's Lindsay Vollmer is second at 3,304.