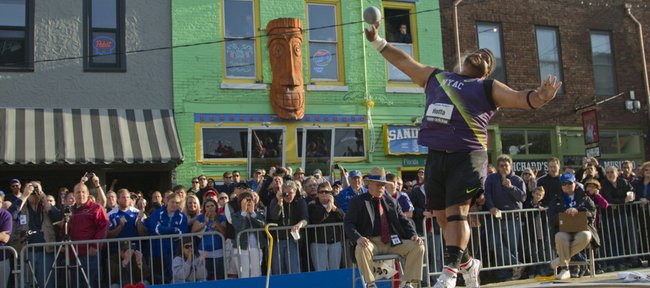 When the downtown shot-put circuit catches on as a nationally televised series that hits 10 different college towns and is backed by a major corporate sponsor — it's just too good an idea not to happen — the competitors will never forget the U.S. soil on which it started.
The downtown shot put, a smash hit in Europe, made its U.S. debut last year on Eighth Street between Mass and New Hampshire streets, in front of the Sandbar.
"People are right there on top of you, cheering you on, willing you to throw it farther," said Dan Taylor, ranked 12th in the world in the event. "It's a great atmosphere."
As the crowd spilled out into the city to have dinner and then drinks last year, most of the competitors did the same.
"It was awesome," Cory Martin said of the night. "We ended up at the Sandbar and had a good-old time."
The second-annual event starts at 6 p.m. today, but those looking to stake out positions close to the action should arrive much earlier. The weather.com forecast calls for 77 degrees with 43 percent humidity and a 10-percent chance of rain. In short, perfect conditions to gather outdoors to watch huge men throw a 16-pound steel ball about 70 feet.
Canadian Dylan Armstrong won last year with a throw of 70 feet, 71⁄4 inches. By virtue of his gold medal in the indoor world championships, Ryan Whiting could be considered the favorite this time.
"I don't know if there is ever a favorite amongst us when we compete," Whiting said. "It's anyone's game. It's whoever brings it that day. Indoor world was my day, but it could be anyone's day."
Whiting said he considers Adam Nelson, Christian Cantwell and Reese Hoffa his stiffest competition. What about Armstrong?
"Last year, Dylan was really on," Whiting said. "I don't know if it's going to be Dylan's day this year. I don't want to talk down on him, but he had an injury indoors. If he could defend, it would be awesome for him, but I don't think he will."
The personable Nelson worked the concession stands in hometown Atlanta in the 1996 Summer Olympics and competed in the next three Olympic Games and earned silver medals in the 2000 and 2004 Olympics. He said the main motivation for trying to compete in a fourth Olympic Games has been making the most of his forum to promote awareness for rare diseases, through a charity called the Rare Project.
Nelson uses his platform as a world-class athlete to urge people to go to charitybets.com to donate money to Rare Project through him. If a corporate sponsor backs a shot-put circuit with the $5 million or so it would take to fund a national tour, Nelson and other throwers' profiles and charitable efforts will soar and so will the entertainment value of sports on television.
More like this story on KUsports.com