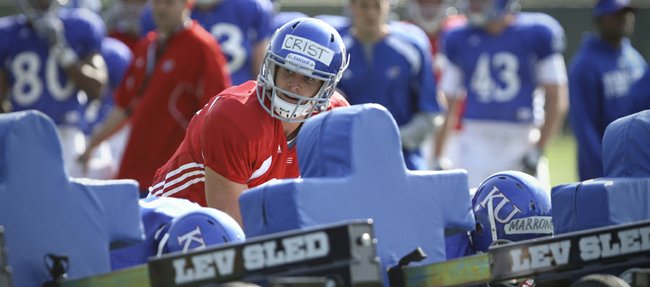 When word got out this winter about former Notre Dame quarterback Dayne Crist coming to join Charlie Weis at Kansas University, thoughts immediately turned to Crist's vast knowledge of Weis' offense and the advantage that would give the current KU roster.
So far, so true.
While that understanding has helped KU install its offense at a breakneck pace this spring, Crist's grasp of the playbook also has inspired competition. It seems that many of Crist's new teammates have taken it as a challenge to see just how well the 6-foot-4, former five-star QB knows his stuff.
Last week, when a few members of KU's offense were asked if they had been able to stump Crist with questions about the offense, the resounding answer was no.
"Not at all," sophomore running back Tony Pierson said. "Anything I ask Dayne, he just knows it off the top of his head."
Added senior wide receiver Kale Pick: "No, I haven't. And I'm still trying to. I'm always picking his brain, and he's always quick to respond. He's a sharp kid."
So there you have it. In just about every way possible, Crist already has been as good as advertised.
Of course, there are many people — including Crist, himself — who won't deem his time here worth much until it makes a difference on the field during the season. But with games still more than four months away, this is all KU can get from Crist right now. And coaches who have known him for years and players who have known him for weeks concur that Crist is making a difference.
"He's not doing anything that I wouldn't have expected," Weis said. "I've known him since he was in 11th grade. What he has done is exactly what I would have expected."
What all that entails is not found on a short list. In fact, much of it cannot be put on a list at all. From bonding with teammates and fitting in to being an obvious leader and KU's first potential standout since Todd Reesing at the game's most important position, Crist's mere presence has brought back hope to KU football.
"It isn't (just) the offense," Weis said. "It's really the whole team. If you're a defensive player and you see that guy on the other side picking you apart, you're saying, 'We've got a chance.' When you're the offense and you come into the huddle, he has a presence."
Added Pick: "I'm glad he's here. He's someone that we really need for our team. He's the perfect guy for the job. He takes charge. Someone's talking in the huddle, he'll tell them to be quiet. He'll tell them to listen to the quarterback. I like that."
Crist credits his teammates' open arms for his ability to feel like a Jayhawk and said he did not have to try especially hard to deliver on the things many hoped he would bring to KU's program.
"It was such a unique situation that, really, all you can do is be yourself, and that's what I've tried to do," Crist said. "I didn't try to fit certain needs or expectations that guys may have had of me. Like coach Weis, I wanted guys to know that I'm just an honest individual, and I'm going to try to be the same guy every day. I understood the dynamic, and I understood that I really needed to assert myself, especially with the offense. But at the end of the day, I really just wanted to be one of the guys."
What he said next, when asked how he handled stepping into a situation where he was to become the face of a program that had seen so many tough times in the past 24 months, offered a glimpse into why it has been so easy for teammates to follow him and why Weis so badly wanted him to be his first quarterback at KU.
"I was pretty aware of what I was walking into when I made my decision to come here," Crist said. "And that's kind of what you're faced with as the quarterback of a football team. I've experienced similar things at Notre Dame. But at the same time I'm just so happy to be at Kansas and to have the support of the fans. That's huge, because I really do care about this place and the university and the fans. Just the excitement that's there, that's important to me. It's flattering. But it's there until you're not successful, so I just want to be as successful as possible."
He continued: "People talk about pressure all the time. Pressure doesn't have to be a negative thing, now. Pressure's a huge positive, and that's really the way I view it. I think I play my best when the pressure's at its highest. You've gotta enjoy it. Otherwise it'll drive you crazy and you'll fall apart."
That last part is the other element of Crist's experience thus far that has made him glad he came to KU. On top of fielding endless questions from teammates about the offense, doing whatever he can to fit in and carrying the weight of being the face of the franchise, Crist has found plenty of time to relish his reunion with Weis.
"Absolutely," Crist said. "I'm in his office all the time. I'm probably bugging him. It's refreshing being back with coach. I think he and I have a very good dynamic. I enjoy working with him. I enjoy taking in anything I can from him because I know how much knowledge he has. I'll never be able to take it all in at once, but, every day, if I can get something from him, I'm getting that much better."
More like this story on KUsports.com