A former Kansas Athletics Inc. consultant convicted for his role in the Kansas University ticket scandal is asking a judge to shave a year off his 46-month federal prison sentence, according to court records.
Feature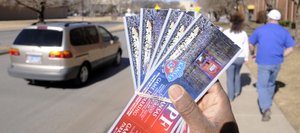 Four former Kansas Athletics employees and one current employee have been federally charged and two former employees have pleaded guilty in a scandal involving millions of dollars of stolen tickets from the university.
Thomas Ray Blubaugh, 48, alleges that when a federal judge sentenced Blubaugh in April 2011, the judge relied heavily on "hearsay, assumptions and inferences" about football and basketball tickets found in a Lenexa storage shed. Blubaugh further alleges that U.S. District Judge Wesley Brown erroneously determined the tickets were evidence that Blubaugh and his wife, Charlette Blubaugh, a former director of the department's ticket office, had stored to conceal a crime.
Thomas Blubaugh argues in his motion, filed without an attorney, that he made "numerous, concerted efforts" to ensure the tickets were given to federal investigators to ensure full compliance with his plea agreement.
During 2011, Brown, who died last January at age 104, sentenced the Blubaughs and three other former athletics department employees — Ben Kirtland, Rodney Jones and Kassie Liebsch — to federal prison after their guilty pleas in the cash-for-tickets scam. The illegal sale or misappropriation of basketball and football tickets, which occurred from 2005 to 2010, cost KU more than $2 million.
Blubaugh is asking a judge to reduce his sentence in an El Reno, Okla., prison to 33 months, which would be in line with Liebsch's sentence. According to the U.S. Bureau of Prisons, Blubaugh is projected to be released in October 2014.