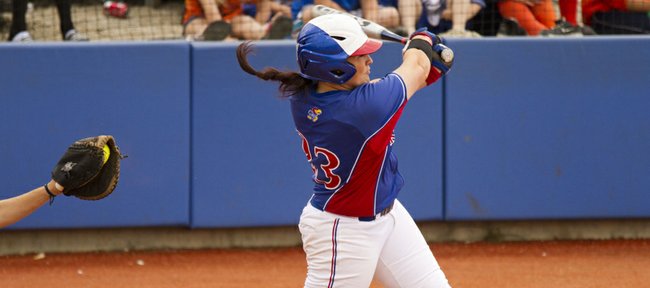 A pile of mistakes proved too colossal a mountain to scale Saturday for Kansas University's softball team — especially with No. 5 Texas visiting Arrocha Ballpark.
Any chance the Jayhawks had at coming up with one victory in a weekend home series against the Longhorns was shot with costly miscues in a seven-run UT fifth, and Texas swept KU with a 13-6 victory.
The Horns' fifth began with a walk — one of a program-record 12 for UT — by Nadia Taylor and a home run — one of four for the visitors — off the bat of Courtney Craig.
With Texas (35-5 overall, 9-3 Big 12) already up 5-1, things worsened from there.
Though Kansas relief pitcher Morgan Druhan, who replaced starter Alicia Pille after Craig's two-run blast, struck out Torie Schmidt, the UT left fielder was able to reach first base when KU catcher Lexi Bryant couldn't hold on to the ball.
Next came an error by Jayhawks shortstop Mariah Montgomery on a possible double-play ball up the middle.
Following an RBI groundout from Kim Bruins that increased the Texas lead to 6-1 and a walk by Mandy Ogle, a fly ball to the warning track by Taylor Thom was dropped by KU left fielder Cassen Salamone, allowing another run to score.
The next batter, Texas leadoff hitter Taylor Hoagland, belted a three-run shot over the left-field wall to give the Longhorns a 10-1 lead.
Kansas coach Megan Smith said the Jayhawks (26-15, 3-12) lacked defensive sharpness throughout the series.
"You can't give Texas free outs," Smith said of the seven-run fifth. "They're a good offensive club, and they're gonna make you pay for it, and they did today."
KU junior right fielder Maggie Hull said she and her teammates knew defensive mistakes cost them in a three-error game that included just seven Texas hits.
"We can't necessarily look back and say, 'Oh, what if this, what if that.' We all know it," Hull said. "We're not gonna talk about it. It's those little mistakes. In the Big 12, you can't make defensive errors, and we made three too many."
If there was a silver lining following the loss — KU's ninth in the last 12 games — Smith said it was how the Jayhawks hit the ball and answered the Horns' big inning with five runs of their own in the bottom of the fifth.
Hull, a Free State High product out of Lawrence, was 2-for-4 and knocked in two runs with a double in the fifth. Freshman third baseman Chanin Naudin and first baseman Maddie Stein delivered RBI singles in the fifth.
Hoagland homered on the first pitch of the game, with the wind blowing hard out to left field. But in the bottom of the first, Naudin tied the game, 1-1, with a solo shot of her own.
More like this story on KUsports.com