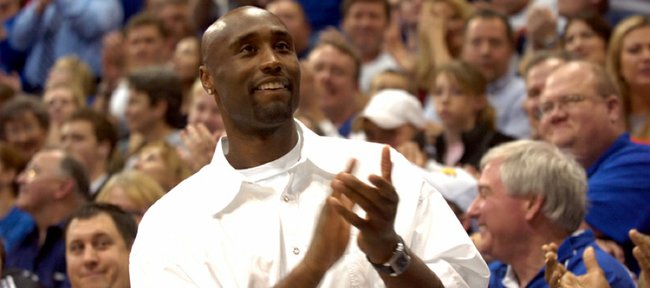 Former Kansas University shooting guard Billy Thomas, who played for three NBA teams in a 12-year professional basketball career, sought out upcoming NBA lottery pick Thomas Robinson on Thursday night in Allen Fieldhouse.
"The first thing I did is congratulate him on a great season, great career and told him that team (2011-12 Jayhawks) made everybody who played at KU before them extremely proud," said the 36-year-old Thomas, who just completed his second year as head coach at The Barstow School in Kansas City, Mo.
He's been helping out at Bill Self's fantasy camp for 35- to 60-year-olds, which runs through Sunday.
"I'm extremely proud of the way they fought," added the 6-foot-5 Thomas, who swished a pair of threes during Thursday's camp-opening scrimmage. "The statement they made as a team as far as being tough and grinding it out and finding ways to win ... where, as a younger team in the same season, they lost those games early on."
Led by consensus All-American Robinson, the Jayhawks rolled to a 32-7 record, good enough for an eighth-straight Big 12 title and runner-up finish to Kentucky in the NCAA Tournament.
"He is extremely imposing physically," Thomas said of the 6-10, 240-pound Robinson. "He is very skilled. He should be a top-three, -four pick. Ultimately I think he can be a guy that has a nice career in the NBA — whether it's as a perennial starter, that's to be determined," Thomas added. "With his work ethic and willingness to become better, I definitely think he can be a starter."
Thomas appears to be in the early stages of what figures to be a long career in coaching. His first two Barstow teams have blazed to records of 18-7 and 19-6.
"It's been great. The kids have been hungry to learn basketball," Thomas said, praising his predecessor, former KU guard Jeff Boschee, whose three Barstow teams went 64-14. "For both of us, they played extremely hard and tried to do what we try to get them to do. Next year, those kids will know my way of thinking. It won't be a situation where I have to sell some seniors and juniors on what I believe in. They know what to expect."
Like Boschee, who is an assistant coach at Missouri Southern, Thomas has goals of someday coaching college ball.
He's taken a big step in that regard by completing work toward his degree in African American Studies.
Thomas will graduate in May, which will make his family members in Shreveport, La., mighty proud.
"I knew I would do it for all the people involved in my life (he and wife Raquel have a son, Zion, 3, and daughter Leyland, 1) and for myself," Thomas said. "To have scrapped and clawed to reach my goals athletically, but never lose sight of getting my degree ... it means a lot to the people pushing me toward that. It means more to me because nobody else in my family has a college degree. Coming from my neighborhood and to be able to be a college graduate of a school this prestigious ... I've been fortunate to accomplish this with the help of a lot of people including Wayne Walden, Paul Buskirk, Scott Ward (academic advisors at KU; Walden is now at North Carolina). Those type of people — great people — continue to help me chase this thing down."
Ward, KU's associate athletic director/academic and career counseling, said Thomas provides a great example for former athletes who seek their college degree while also pursuing pro careers.
"With Billy, it's his consistent effort over the years to finish a class here and there and continually working on it while he was still playing and believing someday — whether he's 35 or 25 years old — that he'll get his degree," Ward said. "I think Billy would tell you it's a lot easier to finish your degree while you are here the first time. Ask anybody. For an athlete or non-athlete to come back in their 30s and finish ... it's a challenge. It's one Billy was up to. This is coach's (Bill Self) philosophy across the board ... that guys who leave or leave early (for pros) can finish their schoolwork, and we do the best we can to assist them."
Thomas said he won't walk down Campanile Hill in May. He prefers to be recognized next December or even in May of 2013.
"My family wants me to go through the whole shebang," he said with a laugh, "but because I complete my work in May, I will wait until maybe December to walk for the finality of it, make sure the I's are dotted and T's are crossed, make sure everything is squared away. It will be a big day," he added.
Recruiting: Tony Parker, a 6-9 center from Miller Grove High in Lithonia, Ga., told the Charlotte Observer he will choose a school during a ceremony Thursday at his high school. He has a final list of KU, Duke, Georgia, UCLA, Ohio State, Georgetown and Memphis. He plans on cutting his list to five, then announcing his choice by donning a hat of the winning school.
"Hopefully, I chop (the list) down because I have to pay 30 dollars a hat," Parker told the paper. The Atlanta Journal-Constitution, meanwhile, reports that the country's No. 27-ranked player is considering making return trips to several of his finalists before rendering his decision.
"I just think he's trying to get to a clear place in his mind where he wants to go," Miller Grove coach Sharman White told the Journal-Constitution. "It's a really tough position to be in, and I don't envy him one bit. All things considered, he's handling it very well and trying to figure out what's best for him."