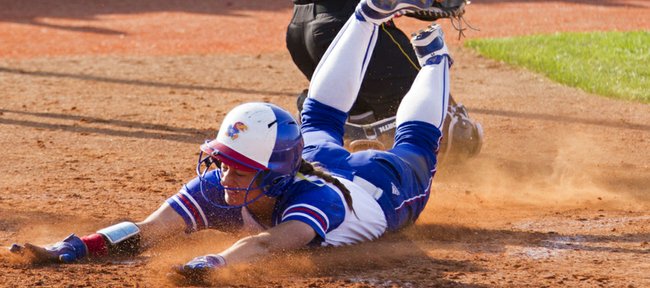 Two big innings carried Kansas University's softball team to a doubleheader sweep of Wichita State on Wednesday night at Arrocha Ballpark.
KU rode a seven-run second inning to a 9-1 victory in a run-rule-shortened opener, then turned a five-run third into an 8-3 victory in the nightcap.
"This was a big day for us. We needed to come out here and play well today, and we did that," KU coach Megan Smith said. "We worked to prepare for Wichita State on patience at the plate and not giving in. A team like Wichita State, their pitchers will want you to give in and swing at their pitch instead of your pitch. I thought our girls overall did an excellent job of waiting, staying calm and getting their pitch."
In Game One, the Jayhawks (26-12) had four doubles in the decisive second inning.
It was more than enough offense to support freshman Alicia Pille (13-6), who surrendered just an earned run off two hits over five innings.
Kansas banged out 12 hits off two WSU pitchers.
Chanin Naudin led the hit parade, going 3-for-3 with a run and two RBIs, while Maddie Stein and Rosie Hull each had two hits.
In the nightcap, the Jayhawks collected 10 hits while limiting WSU (7-31) to just five.
Ashley Newman, Maggie Hull, Naudin and Mariah Montgomery each had two hits for KU. Mongtomery homered and drove in three runs.
In the circle, junior Morgan Druhan (8-4) recorded the win following a four-inning start. She allowed three runs on three hits, struck out five and walked five.
Kansas will host No. 5 Texas in a three-game series this weekend.
More like this story on KUsports.com