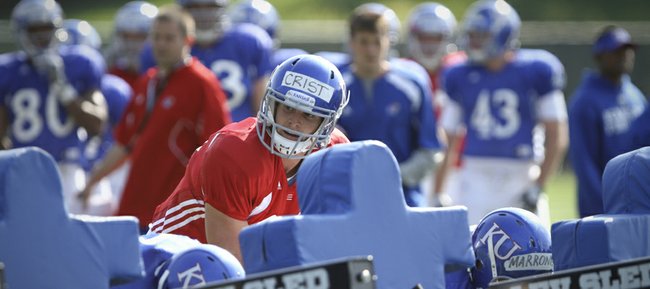 Penn State became known as Linebacker U because generations of rugged men earned all-conference and All-America honors playing the position in State College and then earned big paychecks playing in the NFL.
That's how traditions are built, over time. But when someone brings a reputation with him the size of Charlie Weis' working with quarterbacks, a waiver is granted, and Kansas University now can be called Quarterback U.
When Weis worked for the Kansas City Chiefs, was anybody debating whether Matt Cassel was the right man for the job? Of course not. Turn on your radio to see if that's still the case.
Cassel had a career year under Weis, yet another example of Charlie's amazing lucky streak of getting to coach quarterbacks when they have their best seasons. Either that or the guy has something to do with helping the quarterback perform so much better. Hey, there's a thought.
After Tuesday's practice, the prize pupil at newly Cristened Quarterback U offered a little insight into life in the shoes New England Patriots great Tom Brady wore for so long. Some of the film Weis' present quarterback watches is the same as his most famous quarterback watched.
"I remember at Notre Dame watching a lot of film on him," Kansas senior quarterback Dayne Crist said. "Tom Brady and coach have a real special relationship and still talk frequently. He makes note of that all the time."
It doesn't take long to appreciate that Crist has a fertile brain, an advanced maturity about him. He sees and hears things, he remembers them. Forever.
"He's one of the best, if not the best in the pocket in terms of the movement and stuff, so we're always watching film of Tom Brady," Crist said. "In my opinion, he's the best in the game, so whatever I can take from that, I'll be a sponge and take whatever I can take from that."
Crist knows he's lucky to have Weis explaining what enables Brady — a threat to finish third in a foot race with an expectant mother, to steal a line from the late, great Don Fambrough — to be so elusive in the pocket.
"I think he's definitely gifted with that ability, but you can tell it's definitely something that he works very hard at," Crist said. "It's not just something that just comes to him, and he just says 'Hey, it's part of the arsenal.' You can tell he's working at things like that. You talk about he may not be the fleetest of foot, but those movements in the pocket, those subtle movements, are what's most important."
Todd Reesing had them, and it wasn't until the pocket completely collapsed that he got on his unicycle and made circus plays we'll never forget.
Crist doesn't store a unicycle up his sleeve. Then again, neither does Brady.
More like this story on KUsports.com