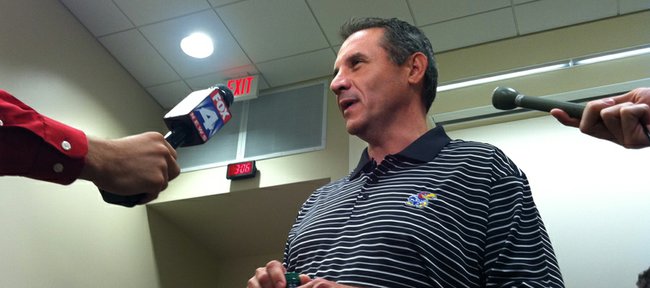 Former Kansas defensive coordinator Vic Shealy accepted the position of head football coach at Houston Baptist during a press conference at the school Monday.
According to the Houston Chronicle, Houston Baptist announced last year it would join the Div. I-AA Southland Conference in 2014. The Chronicle said HBU also could still play as an independent school in 2013.
Shealy, 50, spent two seasons as an assistant at KU under former coach Turner Gill. During his second year, he was promoted to defensive coordinator after Carl Torbush retired.
"We are really excited to be starting our football program under the direction of someone as experienced and successful as coach Shealy," HBU athletic director Steve Moniaci said. "It is very special to be part of building a football program from the ground up, and we are confident we have the right guy for the job."
Shealy has previously been an assistant at Richmond, UNLV, Air Force, Austin Peay State, Mars Hill College and a graduate assistant at Baylor. He also was the head coach at NAIA school Azusa Pacific from 1995-98.
"I am especially encouraged by coach Shealy's commitment not only to football, but to the academic and spiritual mission of Houston Baptist University," HBU President Dr. Robert B. Sloan Jr. said. "His outstanding coaching career and his commitment to college football will be a great asset in recruiting student-athletes and coaches for our football program, and I believe coach Shealy will provide great leadership both on and off the playing field as HBU's first football coach."