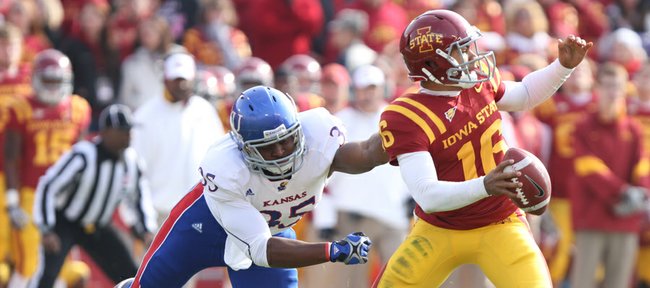 As Kansas University senior Toben Opurum wades into his third spring under his second head coach at KU, the song remains the same.
Opurum is still a man looking to settle into a position and has a new group of coaches to whom he must prove himself. So far, so good, but it has not been easy.
"It's a transition again," Opurum said following Thursday's fifth spring practice. "We're learning new techniques, new terminology, new schemes, but it's still the same as far as me wanting to go out there and get better every day."
While Opurum's previous two head coaches had their reasons for playing him where they did, his current coaching staff includes a couple of guys whose words and opinions carry a little more weight for the 6-foot-1, 245-pound senior-to-be from Plano, Texas. Defensive coordinator Dave Campo and head coach Charlie Weis have coached players at the highest level, and both have sterling reputations for evaluating talent.
"You've got different people telling you what to do and how to do it, but, at the end, it's the same goal," Opurum said.
As a true freshman in 2009, Opurum emerged as the Jayhawks' leading rusher from the fullback position and appeared headed for a starring role with the KU offense. But shortly after the season ended, former KU coach Mark Mangino resigned, and Turner Gill was hired to replace him.
Not long after Gill arrived, he switched Opurum from running back to linebacker in the offseason. By the time fall camp rolled around, Opurum switched again to defensive end. His ever-changing role was tweaked again last season, when he held down the first-string spot at the Buck linebacker position, a hybrid of outside linebacker and defensive end.
Although the constant shifting slowed Opurum's development at a given position, it did little to hinder his progress as a football player. After arriving at Kansas a shade under 230 pounds, Opurum has added more than 15 pounds, mostly muscle, in the three years he's been in town. Beyond physically fitting into his relatively new position, Opurum seems to be in the right spot, Campo said.
"Yeah, I think that's really where he should be, on defense," Campo said. "He's a very aggressive guy, and he seems like he runs to the football very well. I would have to say it was probably a pretty good move. I can't see him having an opportunity to go any farther beyond college football as a running back, and I think (playing defense) gives him a chance to show some of his athletic ability. He is a physical guy, as I'm sure he showed as a running back."
While Campo's track record with the Dallas Cowboys is something the Texas native respects, Opurum said adjusting to the new coaching staff was easier for him than it had been for most of his teammates because Weis retained KU defensive line coach Buddy Wyatt.
"I mainly work with the same coach," Opurum said. "It's a new step, but I don't really have a clean slate. He knows what I've done in the past, and he knows what I'm capable of."
Although he has seen Opurum when the lights are on, Wyatt said the emerging defensive lineman was far from a finished product.
"Toben's still developing at that position," Wyatt said. "He's only been on the defensive side of the ball for about a year-and-a-half, and he still has a lot of things to learn. It's not a natural position for him. He said the other day that he had spent a whole decade carrying the football. That's natural to him. This is not. But one thing you're gonna get from Toben is hard work. He works extremely hard in practice."
Added Campo: "Toben has a chance to be a really good football player, but at this point he's still trying to figure out exactly where he is, and we're trying to do the same thing."
Opurum has grown accustomed to answering questions about new positions and how he feels in this spot or that. It's something that comes with the territory, he says, and something that rarely bothers him.
Asked recently — as he was repeatedly during 2011 — if he finally felt at home in his current spot, Opurum smiled and sighed.
"I feel about 20 times better than when I started," he said. "That's all I can do. I can only continue to take steps forward and make sure I'm getting better every day."
Added Campo: "He really had a good year last year, and we feel like he's making good progress. Toben's doing a nice job, but he has a ways to go, and I think he has a chance to be very successful as an outside linebacker/defensive line type candidate."
More like this story on KUsports.com