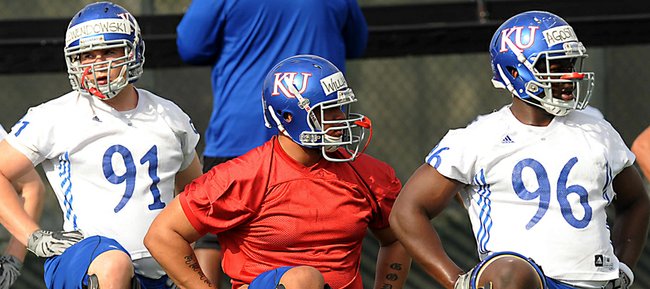 When Kansas University defensive coordinator Dave Campo took the job in January, one of the things he said he was looking forward to about returning to the college game fresh off of a 23-year stint in the NFL was the opportunity to teach again.
It seems he picked the right place.
Five practices into spring drills, Campo said Thursday that he told his players to use this month as a time to prove themselves and that teaching had dominated the first few days of practice.
"It's a blank sheet," Campo said. "And I told our defense that when we first got together. I said, 'If you want to know what we're doing in the next month, I can give you a sheet of paper and tell you how we're going to insert defenses and how we're gonna do all these things. But, really, you should only know one thing — this is a tryout.' And that's the approach that we're taking."
By tryout, Campo was not talking only about stopwatches and an almost-daily shuffling of the depth chart. He and the rest of the coaching staff are in a hard-core look-under-the-hood phase, and he expects that to continue throughout the spring. Diving into the playbook and beginning preparations for Big 12 offenses can wait.
"We're trying to evaluate who we are more than anything else," Campo said. "Scheme is the least of the concerns that I have. We really want to be able, at the end of spring practice, to say, 'We can count on this guy and this guy and this guy,' and then the guys we've got coming in are gonna fill in."
So far this spring, Campo said the defense had progressed at a slow and steady pace. There are multiple reasons for that, but the biggest is that Campo and his defensive coaches still are getting to know their personnel. That starts with trust, and Campo said it was a two-way street.
"'Even though I have certain things that might prove it, I still have to prove to you that I can help you get better and that we're doing things the right way around here on defense,'" Campo said he told his unit. "'That's my responsibility. At the same time, it's your responsibility to prove to me that you can do what I ask you to do.'"
As for specific guys who have stood out through the first third of spring drills, Campo said he did not want to name names.
"I want everybody to think that they're that guy," Campo said. "The one thing I will say is there's been a drastic improvement from the first practice to this practice as far as guys understanding what we want from the snap of the football to the end of the play."
The need for speed
Both Campo and head coach Charlie Weis have talked repeatedly about their desire to upgrade KU's speed. That was one of the topics of Campo's meeting with the media again Thursday, but since he actually had seen what's on the field, Campo could provide his opinion about KU's wheels.
"Not the best," he said. "But I think we have some guys that can run. Remember, you don't have to find 30, all you have to do is find 11 of them. That's something that people forget sometimes."
Saying goodbye
Campo was a couple of minutes late to his news conference Thursday because he had just heard that longtime friend and former colleague Joe Avezzano had passed away after suffering a heart attack in Italy. Campo worked with Avezzano, 68, at Oregon State, Pittsburgh and with the Dallas Cowboys.
"I apologize for being late," Campo said. "I'm a little discombobulated today. I just want to convey my condolences to Joe and his family. He was a good friend, and he was an important guy in my career."
Ticket sales soaring
KU officials announced Thursday that, while season-ticket sales remain ongoing, the effort already had surpassed what the university had sold during the past few seasons.
It's tough to pinpoint exactly how many season-ticket packages had been sold because renewals continue to roll in.
But a press release said that more than 3,000 new season-ticket packages already had been purchased for next season, which includes the new "Coach's Corner" option that was sold out.