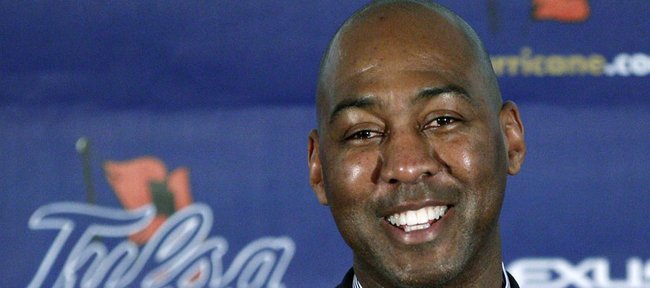 Danny Manning, who has lived in Lawrence 14 years of his life — and spent summers here during his 15 seasons in the NBA — says it took a special opportunity to lure him away from Kansas.
That special opportunity: the chance to work as head basketball coach at Tulsa University, a school that has employed the likes of Bill Self, Nolan Richardson and Tubby Smith.
"We were comfortable there," the 45-year-old Manning said of Lawrence and KU, where he won national titles as both a player (1988) and assistant coach (2008). He was speaking at a news conference Wednesday on TU's campus.
"But the more I spoke with coach Self and the more I spoke with coach Brown (Larry, his coach at KU) about the opportunity of coming to TU and being a part of this rich tradition, it became a no-brainer.
"To get a job of this magnitude as my first job is unbelievable," added Manning, who named former KU player, staff member and Baker head coach Brett Ballard and former KU manager Justin Bauman (an assistant under Rex Walters at San Francisco) as members of his Tulsa staff.
"We're going to have a good time. We're going to play hard. We're going to play competitive. We're going to be respectful young men and humble, but hungry to get better ... committed to one goal, representing Tulsa to the highest honor we can."
Manning said he always wanted to be a coach after watching his dad, Ed, work as an assistant coach at KU. Danny Manning was asked to reveal the best advice given him from Self, his boss at KU.
"Win games," Manning said with a laugh.
"No, no," he quickly added. "Coach Self and his wife, Cindy, rave about Tulsa. They rave about TU, the athletic side of it, the university. They had nothing but love. It has made the transition easier for me and my wife (Julie) and my kids (Taylor, Evan) as well. Coach Self has a lot of friends. We were around a lot of these friends the last couple weeks. They had nothing but wonderful things to say about TU."
According to the Tulsa World, Manning receives a four-year contract worth about $2.5 million total.
He replaces Doug Wojcik, who went 140-92 (68-44 in conference games) but never reached the NCAA Tournament in seven years at the Conference USA school.
Since getting fired in March, Wojcik has since landed as head coach at College of Charleston. He directed Tulsa to six straight winning seasons, including 25-win campaigns in 2007-08 and '08-09.
"Absolutely. We'd like to do it next year," Manning said of making the NCAAs. "It's a process. We understand that. But we're going to put our best foot forward, build and work every day. Hopefully when you count them (wins) up at the end, we have the right number to be there."
Manning was the No. 1 pick in the 1988 NBA draft after being named MVP of the NCAA Tournament. He was a two-time All-Star in his 15-year NBA career.
He was asked why he wants such a demanding job when he's already set for life financially, courtesy of his NBA riches.
"It is hard work. (But) it's a lot of fun," Manning said. "I enjoy the game of basketball. I enjoy learning, figuring out different concepts, techniques and strategies. That's always been part of who I am. I grew up around the game. I enjoy challenges. It's a work in progress. It's a recipe. There are a lot of secret ingredients for recipes. We're looking to come up with the right one to get where we want to go, which is to be competitive and hang banners."
Manning thanked Self for "giving me the chance to be a part of his staff for the past nine years. I have learned a tremendous amount about the game and the profession from him and all of the members of his staff."
He will employ Self's philosophy.
"The biggest thing for us is on the defensive end, we don't want to give up any easy buckets," Manning said. "The philosophy is, if the team can't score, it will be hard for them to beat you."
Self said he is thrilled for Manning.
"Although we've known this for several days, Danny (Manning) being named officially in a press conference at Tulsa is a great thrill not only for him but for all of us," Self said. "We're so happy for Danny because in large part we understand what a great job the University of Tulsa basketball position is. He'll represent the school in a first-class way. He'll recruit good kids that can play and he'll coach their tails off. He'll have Tulsa competing for championships in a very short time. I personally think it will be a great marriage for both parties."
Noted Tulsa AD Ross Parmley: "Danny epitomizes everything our university stands for. His impact on young people will extend far beyond the TU basketball program and reach well into our campus and community. His 15 years in the NBA combined with the last nine years under one of the best coaches in the country, have helped mold him into a great teacher and coach of basketball. He most definitely brings the excitement, the style of basketball, and character that we were looking for in our head coach."
This, that: Manning's high school coach, Ted Juneau, attended the news conference, as did former KU head coach Ted Owens ... Tulsa, which is expected to be one of the best teams in its conference next season, has just one scholarship to award this year and again the following year. ... Tulsa sophomore center Kodi Maduka, who attended the news conference, was rushed to the hospital after collapsing at a pickup basketball game later Wednesday afternoon. The school told Tulsa media that Maduka is in stable condition and will be kept for observation overnight. The reason for the player's collapsing was unknown.
This, that II: ESPN's Andy Katz ranks KU as No. 3 in the country in his first preseason poll behind Indiana and Louisville. Other Big 12 teams: Baylor 10th, Texas 16th and Kansas State 20th. Now in the SEC, Missouri is No. 25. ... Luke Winn of Sports Illustrated ranks KU No. 17. ... Baylor is listed ahead of KU at 13. ... Tony Parker, a 6-9, 250-pound center from Miller Grove High School in Lithonia, Ga., will announce his college decision on April 11, Rivals.com reports. He has a current list of KU, Duke, UCLA, Ohio State, Memphis, Georgetown and Georgia.
More like this story on KUsports.com