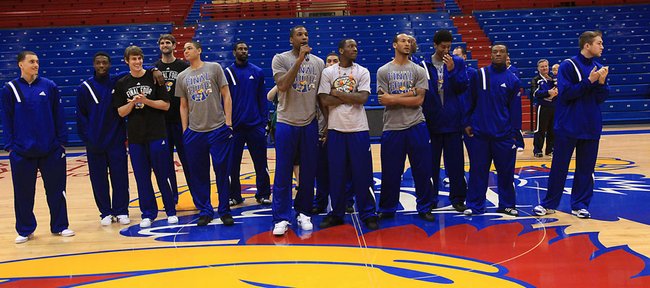 Photo Gallery
Jayhawks return home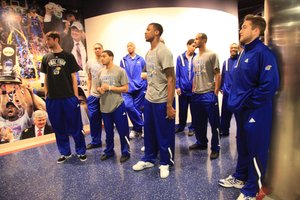 Fans gathered in Allen Fieldhouse for the return of the men's basketball team from the NCAA tournament in New Orleans.
They may not have returned as champions, but at least they got a hero's welcome.
More than 5,000 Jayhawk fans turned up Tuesday night to Allen Fieldhouse for the return of the men's basketball team from New Orleans, which by all accounts had a stellar season despite its 67-59 loss to powerhouse Kentucky in the national championship game on Monday.
Many people talked about celebrating the better-than-expected season, including coach Bill Self.
"How many people could have predicted the accomplishments of this team?" he asked to a standing, cheering crowd.
And junior forward Thomas Robinson said he spoke for everyone in saying, "I'm proud of this season."
But the celebration was bittersweet, Self said, because the end of the season meant the end to a team that's come together — and one fans and coaches alike have come to be attached to.
"These guys lasted to the very, very end," Self said. "They may have come up a little short; personally, I think we just ran out of time."
Senior point guard Tyshawn Taylor praised the fans' role in the season's success.
"We would be half as good without you guys," he said.
Senior guard Conner Teahan spoke about the team's tenacity through upset wins and a final, hard loss.
"We never quit; we kept fighting," he told the crowd. "We didn't want to let you guys down."
Teahan's uncle and cousin were among the fans and echoed the pride expressed by others.
"Conner told us, 'we're gonna be great,'" said Mike Teahan, of Overland Park, about this year's team. "As a fan, it was a stressful season at times, but really, the team did great this year."
Fans like Lawrence resident Cassie Stone are already looking forward to next season.
"It'll be an even better team next year, and we'll go all the way," she said.
Others are taking in this season's highlights and getting excited for Kansas basketball's return, win or lose.
"This season didn't end on a low note for me — there were a couple of bad plays, but I'm really happy," Lawrence resident Terry Gretencourd said. "And now I'm already ready for Late Night practice."