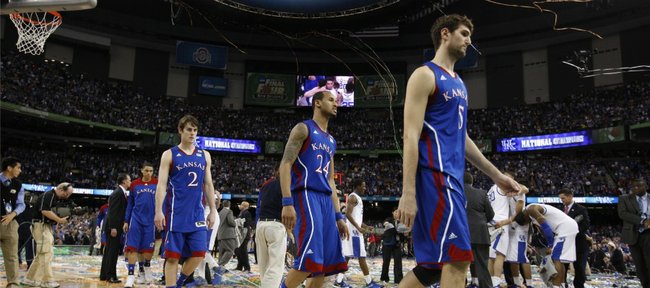 New Orleans — The take-away from the 2011-2012 Kansas University basketball team is not that the bench scored three points in the Final Four, none in the national-title game. It's not that no player made as many shots as he missed in Monday night's 67-59 loss to Kentucky in the Superdome.
It's not that Kansas did a poor job of getting back in transition early in the game and Kentucky cashed in.
When all that is forgotten, the memory that will endure has so little to do with basketball and so much to do with team bonding, relentless effort, embracing adversity as a challenge to be confronted, never making an excuse.
The take-away from this endearing basketball team is that it had not an ounce of quit in it. Not an ounce.
The best team in college basketball, one that looked and played more like an NBA roster than a bunch of freshmen and sophomores, won the national title. The runner-up won a lot of hearts.
"From start to finish, there's been no team I've ever been around that improved this much," Kansas coach Bill Self said. "There has been no team I've been around compete this hard. There's been no team I've been around that was able to take whatever situation dealt them and respond to it favorably, and there's been no team I've been around that represented our university or themselves or their families any better than this one has."
Self meant every word of it. He didn't say that to make the red-eyed players sitting next to him, Thomas Robinson and Tyshawn Taylor, feel better about not being able to win it after slashing Kentucky's lead from 15 points to five in a span of 3:14 that made it Kentucky 62, Kansas 57, when Robinson hit a pair of free throws.
It never grew closer, but visions of KU's comeback from 19 down in the second half to defeat Missouri in overtime fought for space in so many brains with the NCAA Tournament comebacks from double-digit deficits against Purdue and Ohio State.
Kansas staged all those comebacks by defending the goal with such grit and passion. The Jayhawks executed their coach's mantra of "no easy baskets" so well that they rode it to an eighth consecutive Big 12 regular-season championship with a 16-2 record.
They did it all without a McDonald's All-American on the roster, with one returning starter, Taylor, the same player who was the team's only guy who scored a point in last season's Elite Eight loss to Virginia Commonwealth.
Kansas defended so well that national player of the year and Final Four outstanding player Anthony Davis didn't score his first field goal until 5:12 remained. He did everything else, though.
Davis made just one of 10 field goals but deserved every honor he received because of how he influenced every other aspect of a game in which he totaled six points, 16 rebounds, five assists, six blocked shots and three steals.
Kentucky's long-armed, tall athletes ran the floor so swiftly, moved with such agility, jumped so quickly, had such a nice feel for the game. They blocked 11 shots and made Kansas hurry their shots all night because that's what happens when multiple guys seemingly out of range, get into range so quickly to swat shots.
No wonder the Wildcats (38-2) demoralized so many teams on their path to a national title. But Kansas had a confident bunch of basketball players who never let anyone do that to them, as proven by the late comeback Monday night.
"The fight never stops with us guys, man," Taylor said. "From Thomas to Kevin (Young) coming off the bench. We just were fighting the whole game."
As usual, Self summarized the night from his team's perspective better than anyone.
"We came up short," he said. "But you know, I don't think we lost. I think they just beat us. I'm real proud of our team."
The day before the title game, Self had no illusions about what a talented team his guys were about to face. That's why everything he said was aimed at pumping up his players' confidence.
Afterward, he threw credit the way of John Calipari, the coach he defeated with a late comeback in the 2008 title game.
"They've done a fabulous job coaching their team," Self said. "They share. They like each other, the appearance is. And they certainly defend. They're playing with pros. That didn't hurt either."
More like this story on KUsports.com