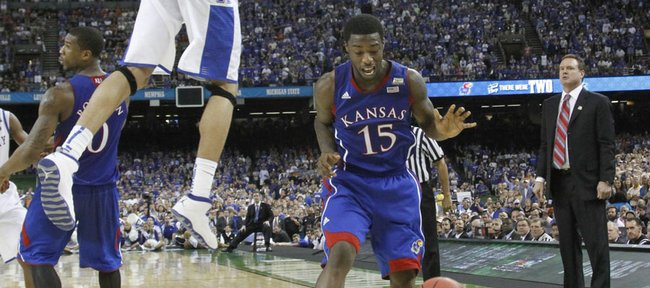 Photo Gallery
Pre-game outside the Superdome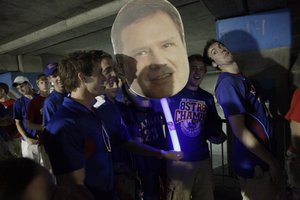 KU and Kentucky fans gather at the Superdome and take shelter in the underground parking during a storm before the NCAA Men's Basketball Championship game, Monday, April 2, 2012.
Podcast episode
Kentucky coach John Calipari and players Michael Kidd-Gilchrist, Doron Lamb, Anthony Davis, Terrence Jones and Darius Miller talk to reporters following the Wildcats' 67-59 victory over Kansas on April 2, 2012, in the national championship game in New Orleans.
Podcast episode
Kansas coach Bill Self, guard Tyshawn Taylor and forward Thomas Robinson talk to reporters following the Jayhawks' 67-59 loss to Kentucky on April 2, 2012, in the national championship game in New Orleans.
KU vs. Kentucky
New Orleans — Elijah Johnson's biggest regret was the shot he made.
With a white towel draped around his shoulders and tears in his eyes, the Kansas University junior guard shook his head when describing the three-pointer he put up with KU down six and 23 seconds left.
The one that didn't count after he was whistled for a travel.
"I actually made that shot, too," Johnson said after KU's 67-59 loss to Kentucky in the national title game. "That was big. That was going to be the big shot, man."
Instead of cutting the lead to three, Johnson watched later as a pair of Doron Lamb free throws put the game away with 17 seconds left.
Johnson's three was a play that he said he wouldn't take back.
When he received the pass, he started to go up for a three-pointer, only to see Kentucky's 6-foot-10 Anthony Davis rushing at him.
As Johnson started to leave the ground, he tried to put the ball down to dribble it.
After bouncing it, he stepped back and swished the three, only to be interrupted by a whistle.
"I personally think it hurts so bad when you think a call like that isn't the right call, or something small like that ... I definitely think that the ref, he had to make a decision," Johnson said. "If he believed that I traveled, then it's his ballgame. But just to be in that situation, I felt like I reacted to it perfectly. And to come up short, that just hurts."
Johnson was asked about the play again later by another reporter.
"I want to see that play so bad, but the referee did a good job," Johnson said. "No disrespect to the referee. He had to make a call, and he made the one he thought was best. I just didn't feel like it was a travel.
"But I don't know. I was a part of the play. I didn't get to watch it like you all did."
When time ran out on KU, Johnson became emotional on the court.
"I felt like somebody stomped me in my chest," Johnson said between sniffles. "I couldn't breathe. It killed me, man. It killed me."
Still, Johnson said he was proud of his teammates for battling back. KU trailed by 15 with just 5:44 to go before closing within five with 1:37 left.
"At the end of the game, I looked at Cal (Kentucky coach John Calipari), and he was sitting on the sideline, and he looked nice and comfortable," Johnson said. "And I kind of smiled at him. And he smiled back at me, because I knew that was our time to make him as uncomfortable as he had been the whole game."